8 tried-and-tested tips to help a struggling reader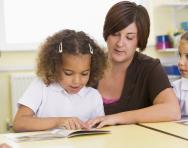 Not all children take well to reading. We asked volunteers with Beanstalk, the national literacy charity, for their advice on helping kids who find reading tough.
Life is better when you can read well and express yourself confidently, but poor literacy is a persistent problem for many children. For example, four out of 10 kids don't have the necessary vocabulary to succeed at secondary school, and only two per cent have the literacy skills they need to spot fake news.
Beanstalk is a national literacy charity that transforms children's life chances by placing reading volunteers in schools. They work with children who have either fallen behind with their reading, lack confidence, or struggle with their fluency, comprehension or vocabulary.
Every year, these volunteers spend a total of over 7,000 hours helping children with their reading. We asked the charity for their top tips for helping struggling readers find their feet – and their love of books.
1. Be a joker
Jokes are a great way to get children involved in reading or talking. When humour is involved, they tend to feel more comfortable and relaxed, and although jokes and puns may not be considered high-brow literature, they can help children to develop language and communication skills.
Jokes hold their own language, rules and conventions that make them funny. They also contain stories in miniature, which makes them great for practising the skills children need to read for meaning.
Grab a Christmas cracker, look at jokes online or ask family members to write their favourite jokes down to read with your child. The Laugh Out Loud Joke Book by Michael Rosen is a brilliant book to use for this.
2. Tap into their interests
Let's face it, reading scheme books aren't always the most exciting. Often, children are expected to plough through every book in each level, regardless of whether the subject matter interests them. That's why it's important to give them a chance to read for pleasure, and to use their own interests to make reading fun.
'I try to pick up on what interests the children I read with, so, for instance, if they're keen on drawing, we might make mini cartoon books related to our book characters and their situations,' says Beanstalk volunteer Jane, from Canterbury. 'And spending five minutes at the end of the session creating doodle creatures is currently the incentive for one youngster to have a good go at the reading activities.'
3. Play Top Trumps
Playing Top Trumps is an excellent way to encourage a child to read while engaging them in one of their favourite games. The well-known card game is relaxed and fun, enabling you to engage with your child whilst reading in a non-obvious way.
As well as reading the cards, playing Top Trumps helps children develop the characteristics of effective learning: exploring, thinking critically, and active learning. It also supports learning in areas directly related to improving confidence and self-esteem, such as succeeding in winning the game and understanding rules.
4. Embrace challenges
The temptation, when helping a struggling reader, is often to 'dumb things down,' for example by choosing easier books or skipping over difficult words, but actually, children usually love a challenge, and to reap the rewards when they succeed.
'Last year, I supported a young girl, M, who wasn't a bad reader, but was reluctant to engage in reading,' says Noel, a Beanstalk volunteer from Trafford. 'We soon got into the habit of me making a note in her reading record of every tricky word that she managed to sound out.
'By the end of the year, she had read over 70 difficult words. I copied them onto several sheets of A4, which I turned into a scroll. On my last day with her, we produced this scroll of "M's Exceedingly Long List of Exceedingly Tricky Words". It was so long, M had to stand on a chair to unroll it. Her classmates were impressed and, unusually, she was lost for words at her own success!'
5. Play paper and pen games
Playing simple pen and paper games is good for encouraging children to read and write without them realising it. Some of the popular games that Beanstalk helpers often play with the children they read with include:
Hangman: the old favourite where you think of a word, and your child has to give you a letter at a time. If it's in the word, you fill in the gap where it should be; if not, you draw a part of the hangman or gallows. Can they guess the word before you complete the hangman?
Consequences: this is a great game to play with older children who can form written sentences. You take it in turns to write a sentence of a story each, folding the paper over before you pass it on so your partner can't see what you've written. The wackiest story could win a special sticker.
Word searches: print off a word search or buy a puzzle book: they're brilliant for helping children to start looking for words amongst other letters. 
Scrambled Word Ladder: think of a two simple words (e.g. COLD and WARM). Get your child to change one letter at a time to make a new word that takes them one step towards the end word.
COLD
CORD
CARD
WARD
WARM
6. Ask for one-to-one support
Reading one-to-one with a helper is one of the best ways to help your child move on quickly with their reading, so if you're concerned about their progress, it's always worth asking their teacher if there is any support available.
'There is no stigma in being withdrawn from class to have one-to-one help to improve reading ability,' says Beanstalk volunteer Bernard from Rochdale. 'On the contrary, there is always a full show of enthusiastic hands in a class if one of our children is absent and we need a substitute!'
7. Choose books that actually appeal
There are many brilliant books out there for kids, so if you haven't found the one that motivates your child yet, keep looking.
Beanstalk has compiled book starter packs that are given to all their volunteers to share with the children they work with. These include titles such as It's Okay to be Different by Todd Parr, Open Very Carefully by Nick Bromley, and The Book with no Pictures by BJ Novak, among many others.
Check out the full list of 40 books – the #BeanstalkTop40 – in the resources area of the Beanstalk website.
8. Have fun!
Reading with your child can sometimes feel like a chore, especially if they find it difficult. But kids can tell if you're bored and distracted, and will lose focus themselves, so try to be fully present when you're sharing books, and make an effort to enjoy yourself.
'The enjoyment isn't just for the children; I get pleasure from sharing time and activities with them, and making sure they are busy and gaining confidence as readers,' says volunteer Jane.
Beanstalk helper Clare agrees: 'If you look for the small changes, not just with reading, but with eye contact, concentration, a smile, a moment of relaxation, there are breakthrough moments every week.'
Could you be a reading support volunteer?
If you'd like to find out more about Beanstalk's work, or you are interested in becoming a trained reading helper in a local school, get in touch online or call 0845 450 0307.
ARCh is a registered charity which recruits, trains and supports volunteers who help children develop a love of reading in over 100 Oxfordshire schools. No formal qualifications are required, just enthusiasm for reading, enjoyment of children's company and good communication skills.