What is the Early Years Foundation Stage?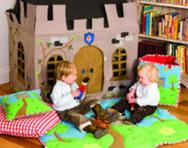 Get the lowdown on what Foundation Stage learning is all about and what your child will be expected to know.
Early Years Foundation Stage (Nursery / Reception) is for children aged three to five years old and is the first stage of their education.

The key focus during this part of the national curriculum is on teaching them routine and easing them into the idea of learning in a structured environment.

A lot of the activities your child will undertake will be play-based, with more formal teaching not starting until they begin Key Stage 1 (Year 1 and Year 2).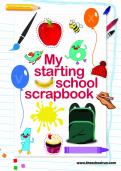 Claim A FREE Starting School Scrapbook!
Packed with colourful activities
Focuses on early English, maths & science skills
Supports your child's physical and social development
When can my child go to school?
All children aged four and many aged three (depending on where you live) are entitled to free part-time education. To find out what is available for your child, have a look at the Government's ChildcareLink website.
Where can they go to learn?
The Government funds places at:
Nursery and reception classes
Playgroups
Pre-schools
Accredited childminders in approved childminding networks
What is in the Foundation Stage?
The Foundation Stage was introduced in the 90s and a more experimental and play-based form of learning was brought in following lengthy research. This may be very different from your experience of starting school. The Foundation Stage recognises that children need to be able to use concrete experiences to provide the building blocks for their learning, so with that in mind it utilises play, modelling, painting, investigating and cooking as the mediums for learning.
What subjects will my child learn about?
There are six learning areas for children at the Foundation Stage:
Personal, social, and emotional development
Communication, language and literacy
Mathematical development
Knowledge and understanding of the world
Physical development
Creative development
Will my child be tested?
Children are assessed at the Foundation Stage, and the results are recorded as a Foundation Stage Profile. This profile enables teachers to see how your child has progressed and if they have reached the early learning goals set in each of the learning areas. Teachers will record your child's achievements throughout the Reception year based on their own observations.