Why family games help positive behaviour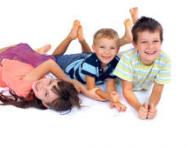 Traditional family games can help your child develop skills such as patience, respect, turn-taking, and being part of a team. So try these tips to make time for games in family life.
You might think that dusting off your board games once a year at Christmas is ample game-playing time for your family. However, according to the head of Ofsted, children who play traditional board games at home do better at school.
Playing traditional games, such as board or outdoor games help children to think for themselves, learn cooperation and teamwork skills, work on strategies and tactics, and learn how to hold a conversation with adults. Games are a fun way of getting your child to learn - without them even realising it!
So how do you get your child playing more games?
Get out some of the old favourites. Draughts, dominoes, connect four and card games, are not only terrific fun but they are also challenging and involve concentration and strategy.
Get game-playing into your weekly routine. Find an ideal time for the whole family to sit together and play some games. Sundays are often good.
Add some elements to help 'game time' become a family tradition, such as favourite foods (bowls of popcorn or hot drinks), a comfortable, warm setting (in front of a roaring fire), and try inviting grandparents, other relations and friends over to get lots of people involved.
Start with games that are suited to the youngest age group present, or have a few games going at the same time that fit the various age ranges. Make sure everyone understands the rules and aims of the game being played.
Explain that to enjoy playing games we all have to play by the rules, respect our partners and respect the outcome of the game.
Show your own interest and enthusiasm for the game, give it concentration and effort, both for your own enjoyment, and also as a role model for your children. Discuss the moves you are making and ask open questions such as, "What are all the different options you have?" or "What would happen if you take that move?"
Whether your child wins or loses, at the end of the game summarise what you learnt from the game and then ask your child, "What did you learn from that game?" or "What might you do differently next time we play?"