How to help your child cope with bereavement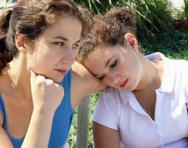 Everyone deals with grief and bereavement in their own personal way whatever their age or personality. We offer some expert advice on supporting your child during this upsetting time.
A child experiences bereavement and grief differently to adults. Their responses vary according to age, development stage, and personality factors.
For adults, grief is rather like a vast lake of emotions and sadness, but for children this 'lake' is experienced in waves. At times a child may seem overwhelmed by sadness and at other times their attention may be focused elsewhere on everyday things like playing. According to children's bereavement charity Winston's Wish, this does not mean they care any less about what has happened, it is just their way of coping.
How do children understand death?
A child's understanding of death goes through several stages before they begin to realise that it is the end of physical life.
A child under five or six years old may not understand that death is permanent. Older children will begin to understand the meaning of 'forever' but, as Winston's Wish explains, they may 'feel that they can in some way reverse what has happened ("Grandad will come back if I'm very good and eat my broccoli").'
How children show grief
Every child, regardless of their age, will have a unique and very personal reaction to grief. You may be concerned that your child is not responding the way they should but it is important to remember that grief is a deeply complex. As Winston's Wish explains, 'Grief feels chaotic. Grief follows no rules.'
Consultant clinical child psychologist Dr. Carol Burniston says, "We recognise that adults experience shock, denial, anger, sadness and adjustment in response to bereavement and children appear to experience these things also, just with a different behavioural manifestation."
How can you support a bereaved child?
Be there for them – during this time they may become very unsettled and anxious. They may be clingy and insecure. Share your feelings with them, as this will help them to understand they are not alone in their grief.
Share anecdotes about the person who has gone – they can be funny or sad – but by talking about the person you will help your child come to terms with their loss.
Ask them to tell you when they feel sad or need a hug.
Although it can feel like the most unsettling time, keep your child's routines as normal as possible to avoid extra distress. Just bear in mind that they may need some extra support with their routine, such as more hugs when you drop them at school.
Encourage older children to see their friends, as it may help them feel normal and it can be good for them to get some support from people who aren't just in their immediate family.
Don't force a child to describe their feelings if they don't want to.
Do answer your child's questions honestly and simply.
Make a memory box or book with things which remind the child of the person who has died and the times spent together. Photos, keepsakes, perfume, for example, can all help a child cope with their loss.
Parents' advice to help children cope with grief and loss
By the age of 16 the majority (54%) of children experience the death of a family member, and 22% of kids have lost a pet, friend or family member by the age of six, according to Lessons and Life and Loss research from Legal and General insurance.
Most parents say six is the perfect age to discuss death.
4 out of 5 parents say that the death of a pet helped their child grieve the loss of family or friends.
Bereavement in fiction helps children understand death in real life: 1 in 5 parents said that the deaths of Dumbledore and Dobby in the Harry Potter series helped cope with loss in their own life. (Look through our recommendations of books about difficult subjects to find fictional stories to introduce kids to complicated life events.)
Watch the Lessons and Life and Loss research video for practical tips from Child Bereavement UK Deputy Director of Bereavement and Education Katie Koehler.
Helping your child cope with a coronavirus loss
Lianna Champ has over 40 years' experience in grief counselling and funeral care and is author of How to Grieve Like A Champ. She says:
If someone close to your child contracts coronavirus and is seriously ill, you shouldn't hide the fact that they might not recover. Introduce the idea of saying all the important things to each other: explain that we can't always choose how or when we die, but we can make sure that we all know how much we mean to each other. This is more important now than ever as we can't reach out and hug each other.
 
We often exclude children to protect them, but we shouldn't be afraid to involve them in the funeral process if they ask. If they do, let them in. The opportunity to be involved in the farewell process can be an important learning and healing experience.
 
With social distancing, they may be unable to attend the funeral in person, but they are still grieving and need our rituals to mark someone's life and their passing. Create your own memorial service with them at home. Decorate the room with personal items. Have the ceremony live streamed. Let your child choose a photograph and flowers and light a candle. This helps us show our love and respect to the person who has died, and afterwards you can share your memories, your laughter and your tears.
Best books about grief and bereavement for children