How to raise a resilient child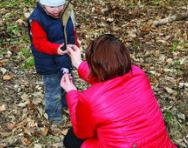 Whether it's failure to achieve a certain goal, being let down or simply failure to receive something we had our hearts set on, we all suffer knock-backs from time to time and that's why teaching a child to be resilient is crucial, writes Michael Grose.
Some kids are resilient by nature – their temperament helps them to be mentally and psychologically tough. You know those kids. They get straight back up after a setback or disappointment. Rejection in the playground doesn't faze them. They are flexible enough to cope with changes, such as moving from one school to another. They keep working hard in school even if they don't succeed at first.
Unfortunately, not every child has such natural resilience. But the good news is that most of the research into the area indicates that resilience can be nurtured and developed.
How you can raise a resilient child
Resilient kids share four basic skill sets: independence, problem-solving abilities, optimism and social connection.
Parents can develop these skills by allowing kids to fully contribute to their family. By developing children's self-help skills parents promote a real sense of independence, as well as their children's resourcefulness.
Parents also need to resist sorting out children's social problems and train them up to solve their own friendship challenges. Sometimes parents can create more problems by interfering in children's disputes.
Being a good role model for your child
Kids learn optimism from home. Regular, positive parent-child interactions are perhaps the best way for kids to pick up basic social skills that enable them to interact with their peers as well as more subtle resilience skills such as humour, goal-setting and persistence.
Children's life experiences also contribute to their resilience. The seemingly small disappointments that kids experience, such as not being invited to a party, missing being picked in a sports team or not achieving success in a school project help them learn to cope with hardships and frustrations. Coping with minor development issues, such as change, sibling conflict and even failure, builds up a psychological hardiness that helps them when they face some of life's big challenges in adolescence and beyond.
A genuine show of faith in children's abilities to cope rather than simply a 'get over it' attitude gives them great hope when they face difficulties. The hardest part of parenting is keeping kids' chins up when life doesn't go their way.
Other sources of resilience
Parents also need to put children and young people in situations where they need to draw on their resourcefulness. Camps and adventure activities are great ways for kids to stretch themselves and test their problem-solving and coping skills.
Promoting resilience in kids is a not a single event but a continuous process. It requires parents, teachers and other adults to look for opportunities for kids to stretch socially, academically and even emotionally. It also requires parents to see some of their children's difficulties and hardships as valuable learning opportunities rather than catastrophic events that will scar them psychologically. It's worth remembering that the stronger the wind, the stronger the trees so if we want our kids to be resilient it's best not to be afraid of a little wind. 
Best children's books about resilience