Museums reviewed by parents: We the Curious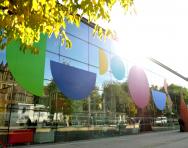 Discover the wonders of the human body, the solar system and the Earth's ecosystem through the lens of technology and science at Bristol's mad and wonderful museum. In a city known for its character and colour, We the Curious blends right in as the ultimate learning experience with a quirky twist.
With so much to see and do in Bristol, Kate Morgan and her son Noah, age 11, decided to spend the day at the popular We the Curious museum and see for themselves what it has to offer.
This is not a museum for the faint-hearted and anyone hoping for a quiet, calm day out with the family. The place is buzzing from start to finish with people of all ages excitedly exploring the amazing science behind the world we live in. Deceptively small-looking from the outside, We the Curious is spread out across two floors and just when you think you've seen it all, you'll find more to discover.
As far as fun learning experiences go, this science and technology hub makes it to the top of our list, and even more so because it is in such a beautiful location, with water features outside the children can splash around in and family boat trips down the river close by.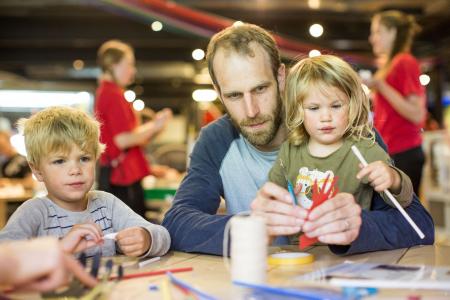 Best for nursery and Reception kids
Although some of the science behind the exhibits will be difficult for this age range to comprehend, even the youngest children will be fascinated by the interactive displays. Conducting music through their jaw bone as they bite down on a straw and plug their ears is sure to keep them mesmerised for a while (as strange as that sentence sounds!).
They will love the Flight Zone as they launch their own parachutes from the ceiling and watch them float back down to the ground.
There are several sand exhibits for children to explore and a construction play area upstairs for under 8s, as well as a bubble area for making the biggest bubbles you've ever seen.
Remember to check out the shadow puppet show if you have kids who love creating stories and making puppets.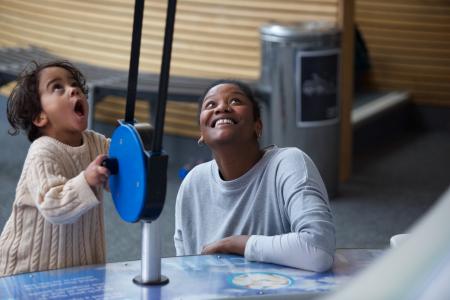 Best for KS1 kids
The food area will be a big hit with any KS1 kids and they will be encouraged to grind their own flour, milk a (fake) cow, and receive a personalised recipe from a robot chef. Throughout the day there are live demos teaching families about different foods, and you'll get a chance to taste a few too.
Upstairs, this age group will go mad for the space exhibits and animation activities, and they will love the bubble area just as much as the little ones.
Best for KS2 kids
Noah and I were fortunate enough to catch one of the 3D planetarium shows and it was the highlight of the whole day. These 3D shows are recommended for KS2 children but planetarium shows like Rocketship Adventure, aimed at children aged under 6, are also on offer. Noah stayed focused and fascinated for the full 45 minutes and we were encouraged to take part in deciding where our space adventure would take us. We looked at various planets and learned about the solar system, and curiosity was very much encouraged.
Back on Earth, the We the Curious animation area is great for KS2 children and allows them to create their own storyboards, plots, characters, and sequences. They can then take images and create a short film, which can then be sent to your email address.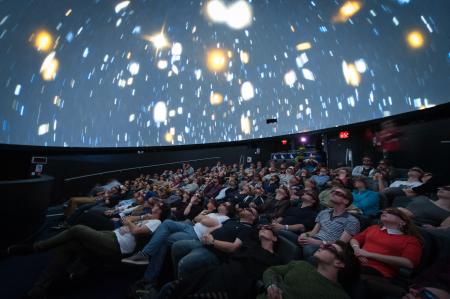 Don't miss!
Make sure you take part in one of the many shows and/or workshops available – great fun as well as educational, and included in your admission price.
Also, there is a whole area devoted to talking about our impact on the planet on how we can treat the Earth better, teaching valuable lessons for little ones to learn. 
Half-term and holiday events for families
Theme days, workshops, planetarium shows, and studio shows run at specific times and days throughout the year. Topics range from forensic science and maths to brains and bodies and, of course, space!
Visit the website for an up-to-date events calendar to help you plan your visit.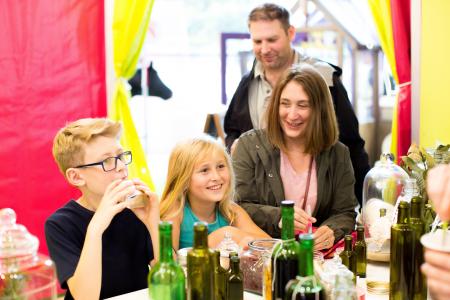 Food and drink options
The cafe offers ice cream, sandwiches and other lunchbox-style snacks, as well as hot soups. There is a wide selection of cold and hot drinks and it is all reasonably priced. There is a seating area outside and, on a nice day, kids can play in the water features that run alongside the building as you drink your coffee and enjoy a cake.
Getting there, prices and opening hours
We The Curious, One Millennium Square, Anchor Road, Harbourside, Bristol BS1 5DB
The museum is open 10am - 5pm, from Monday to Friday (during term time) and 10am - 6pm on weekends, Bank Holidays and Bristol school holidays.
There is detailed visitor information on the website.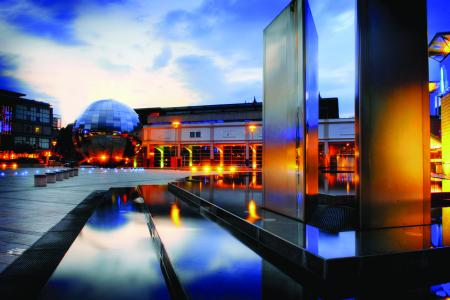 Pocket-money shop purchases
There is a large gift shop as you enter the museum and it's filled with books, socks, mugs, teddies, and plenty of science/museum memorabilia. Prices range for £1 for small kids toys, to £95 for framed artwork.
Online treasures if you're too far to visit
The museum has a newsletter to keep you up-to-date with what they're up to, and we love the We the Curious YouTube channel, packed with kids' science videos: hands-on dissections, guides to finding constellations and lots simple science activities, from making rockets to baking bread!
Links to the National Curriculum
Download free exhibition and topic trails before your visit to help you get the most out of each area. National curriculum science topics covered include:
Photography: © Alex Smye Rumsby  © Paul Blakemore  © Daniel Watkiss © Lee Pullen 
Museum reviews for parents: we need YOUR help!
TheSchoolRun is looking for families to visit museums and other educational venues around the country and 'review' them. Get in touch to have your say about the best family days out (with a learning twist!).