Museums reviewed by parents: National Museum Cardiff
The National Museum in Cardiff combines fascinating exhibitions with year-round displays of the natural world and child-friendly activities. Expect a sensory overload and a jam-packed day out with the family when you visit!
Kate Morgan and her son Noah, 11, visited the National Museum Cardiff, playing tourists in their own home town.
Surrounded by clean gardens and historic monuments, the National Museum Cardiff is a must-see for visitors to the Welsh capital. Most of the museum is free all year round, but it does offer some temporary, special exhibitions.
Claim Your Summer Challenges Pack!
30 exciting challenges
Weird and wonderful facts
Keep them busy the whole summer!
We began our visit at one such exhibition, all about snakes. The friendly museum staff that greet you, and the range of activities for kids once you're through the door, make for a promising start. Colouring, crafts, giant puzzles and tactile games eventually guide you towards the dead snakes in jars, live snakes in glass cages, and an abundance of snake information.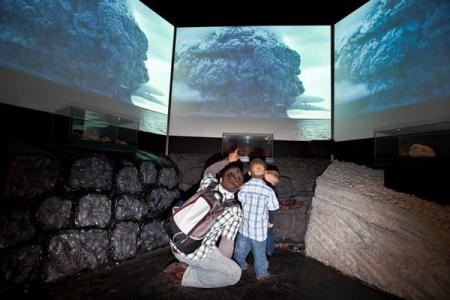 Best for Nursery and Reception
Younger children will love the soft puzzle blocks and magnetic puzzle pieces on the wall that, once put together, form a giant green snake.
The colouring-in activities are very popular with little ones but they may find the boxes with hidden snake-based treasures and snake sound effects a little scary.
If this doesn't catch their attention there is a free discovery room at the other end of the museum with bean bags and books, and even more colouring upstairs in the marine animal section.
Best for KS1
This age group will appreciate the goofy 'snake selfie' board that enables you to look like you're in the jungle finding snakes – perfect for fun family photographs.
They will also find the mystery snake boxes exciting as they bravely stick their hand in, feel something scaly, and hear hissing sounds (not real snakes at this point though!).
Once they reach the snakes in glass cages their interest will only really be peaked if they see one move. These creatures are very shy and still.
In the discovery room they have the opportunity to explore fossils and small dead insects with magnifying glasses, which will greatly appeal to this age group.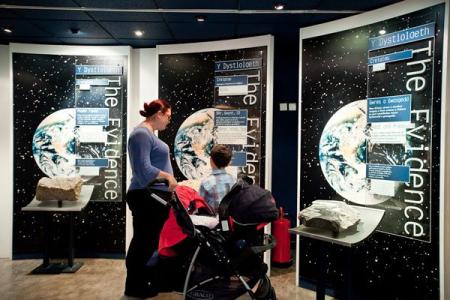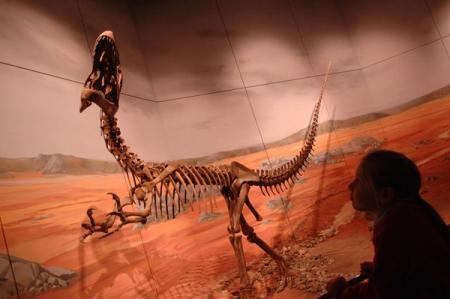 Best for KS2
KS2 children will have a laugh when stepping onto the giant weighing scales to see if they are as heavy as an anaconda. We managed to fit three kids and a few volunteer parents on and were still nowhere near the right weight!
Noah loved the snake expert quiz and was determined to answer all of the questions without help. He was truly surprised and fascinated by the things he learned.
The colouring was a miss for him, and most older children would lose interest in this activity pretty fast.
In the discovery room Noah spent a long time examining his finger under the microscope as it projected the image of very grubby fingernails onto a large television screen.  The children will be fascinated but the adults will be horrified!
Don't miss
The telescope in the discovery room is definitely a hit for KS2-KS3 kids. There is also an option to pick up an AR handset at the gift shop and explore the museum using high-tech gadgets (£10 per hour hire). We didn't notice this until the end of our trip, unfortunately, but Noah is very keen to come back and try it out another time. Check ahead to see if these are still available as they may have been removed to reduce the risk of transmitting COVID-19. 
Half-term and holiday events for families
The Discovery Room is open every weekend and for school holidays; they regularly host school trips during the week. Family events, talks and museum sleepovers take place throughout the year.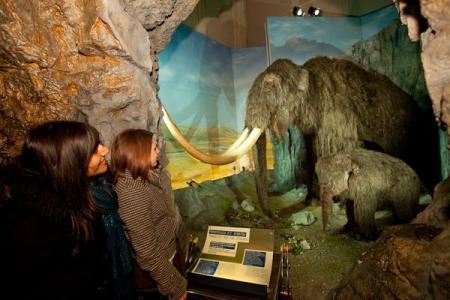 Food and drink options
There is a restaurant and a small cafe in the museum. The restaurant closes at 2:30pm everyday and the cafe, which offers sandwiches, cakes and coffees, is a little pricey.
We brought a packed lunch and sat in one of the many beautiful gardens that surround the museum. If the weather is going to be nice for your visit, I highly recommend this option.
Getting there, prices and opening hours
National Museum Cardiff, Cathays Park, Cardiff, CF10 3NP
The museum is roughly a 20-minute walk from the central train station and if you're driving there is a park and ride system into Cardiff.
There is plenty of parking around the museum at a reasonable price but parking fines are costly in the city so it's worth setting an alarm on your phone to get back on time (as we discovered!).
Admission to the museum is free but if you want to experience some of the special short-term exhibitions it showcases then the charge is normally between £7-9.
The museum is open Tuesday–Sunday, 10am–5pm. Galleries close at 4:45pm. It is also open most Bank Holiday Mondays, including 26 August. For specific events and exhibition prices please visit the National Museum website.
Pocket money purchases
There is a sizeable gift shop that offers a range of products such as cards, mugs, jewellery and toys. It is quite costly but little pencils and wrist bands to remember your visit are fairly cheap. The location of the shop makes it tricky for parents to steer their kids away so be wary of this as you enter!
Online treasures if you're too far to visit
The museum has plenty of online resources written by experts for different key stages and subjects. The exhaustive list also includes ebooks and downloadable activity booklets to help you make the most out of your time at the museum – well worth downloading before your visit. If you can't make it to the museum to have a look around you can browse its online collections.
Links to the National Curriculum
The museum offers a range of learning activities for EYFS, KS1 and KS2:
History, evolution and geographical knowledge about specific species (KS2 and KS3)
The natural life cycle of a range of animals (KS1-KS2)
Problem solving, knowledge and understanding of the world, and fine motor skills (Nursery and Reception)