Museums reviewed by parents: Techniquest
Explore the world of science, technology, engineering and maths in Cardiff's innovative museum, Techniquest. If your child hasn't shown an interest in these topics before, they soon will after being surrounded by these exciting and futuristic exhibits. Touching the machines, gadgets, and gizmos are actively encouraged!
Kate Morgan took her son Noah, age 11, to find out what Techniquest has to offer for the family.
This museum was not at all what we expected. There are no ancient artifacts or valuable antiques, but instead what we found was the modern, futuristic world of STEM.
Download fantastic science resources today!
Experiments And Science Fun pack
Science Learning Programme for each school year
All the instructions, questions and information you need
Techniquest is situated in idyllic Cardiff Bay, which is surrounded by shops, restaurants and the open water. You probably won't have much time to explore though because so many hours can be spent in the museum itself. Adults and children alike can, and do, lose themselves in the wonders of science and technology.
Some of the items and games are a little worn out, but there are so many other things to see and do that it wasn't an issue for us. 
Every activity included very brief, easy-to-understand instructions and an explanation of what was happening and why.
Best for Nursery and Reception kids
Younger children will love the big soft blocks shaped like cogs and long tubes. This activity is safe, easy and very tactile. It encourages kids to figure out how to fit different shapes together.
They will also enjoy stepping on the big floor piano and making fun sounds with their feet.
There are so many buttons to press and levers to pull that almost every object will be fun even if the children may not necessarily understand all of the science behind it.
Little kids will have fun making sounds and watching lights appear when they complete a simple action or task.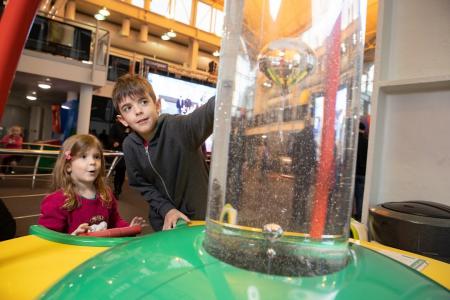 Best for KS1 kids
KS1 kids will love the shadow machine! One quick flash and shadows appear and linger on the wall long enough to have everyone mesmerized. The shapes you can throw in the shadow machine are endless and really fun.
The probability balls will be a great challenge for them and teach them about estimation and probability.  You put balls into a long tube and they shoot up, land in a maze, and you have to guess where each ball will land.
Children this age will be fascinated by the perception chair and stare at the reflected image of a miniature version of themselves on a chair. It looks like magic but it's all about perception and depth!
Filling the small hot air balloon up and watching it float to the ceiling will keep them occupied for a while, too.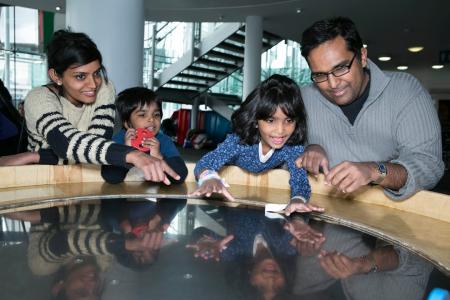 Best for KS2 kids
There's plenty of great digital games and activities for older kids. Noah thoroughly enjoyed making his own stop-motion movie with LEGO figures and editing it on several different screens.
The museum offers some mind-boggling puzzles for older children to figure out, and even challenge the parents too. There is an option to access clues using QR code readers or clicking on the museum webpage.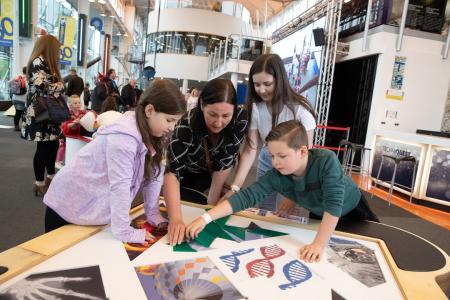 Don't miss!
There are several shows throughout the day such as Mission Moon, Star Stories and LEGO Robot Workshops. Some of these are included in the price of the ticket and are very interactive and educational.
You will also have the option to pay £5 for an activity sheet; once completed, your child will receive a £5 voucher for the gift shop.
Food and drink options
The cafe is run separately from the museum and the tables are tucked away behind the reception desk, but the prices are very reasonable and it offers a range of coffees and light bites.
Getting there, prices and opening hours
Techniquest, Stuart Street, Cardiff, CF10 5BW
The museum is open 10 am - 5 pm every day of the week.
For specific prices and event dates, visit the Techniquest website.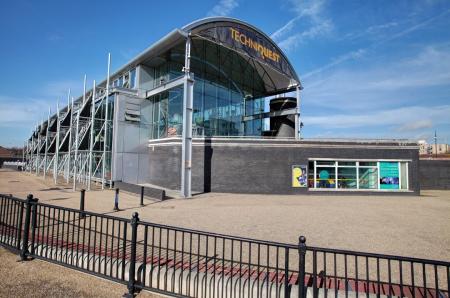 Pocket-money shop purchases
The gift shop offers a wide variety of souvenirs and educational purchases ranging from 50p pens to £50 robots. They also have books covering science, maths, and technology for most key stages.
Online treasures if you're too far to visit
Visit the Techniteach page for free worksheets and access to the Techniteach blog.
Links to the National Curriculum
Experiencing and observing phenomena (KS1)
Identify, name, draw and label the basic parts of the human body (KS1)
Explore and use mechanisms such as levers, sliders, wheels and axles (KS1)
Understand and use electrical systems in their products such as a series circuits incorporating switches, bulbs, buzzers and motors (KS2)
Apply their understanding of computing to program, monitor and control their products (KS2)
Learning to construct with a purpose in mind (Nursery and Reception)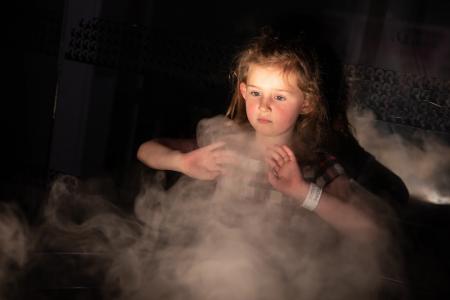 Photography: © Techniquest © Steve Pope © Nick Treharne
Museum reviews for parents: we need YOUR help!
TheSchoolRun is looking for families to visit museums and other educational venues around the country and 'review' them. Get in touch to have your say about the best family days out (with a learning twist!).