Museums reviewed by parents: Wheal Martyn, Cornwall
Set within 26 acres of woodland, this family-friendly country park is home to the world's only china clay mining museum. Find out more about Cornwall's largest mining industry, which is still alive today – how it changed the lives of local people, and its wider impact on the world. With nature trails, an adventure play area, and mining in action, there's plenty to keep you entertained.
Katie Dicker visited Wheal Martyn Clay Works with Daniel, 8, and Elizabeth, 4.
Over 250 years, the UK's china clay industry produced around 170 million tonnes of china clay, 70 per cent of which was exported. By 1869, Wheal Martyn produced 2,000 tonnes of clay a year. Although forced to close in the 1930s, the Wheal Martyn Pit reopened in 1971 and now produces about 2,000 tonnes a week!
Claim Your Summer Challenges Pack!
30 exciting challenges
Weird and wonderful facts
Keep them busy the whole summer!
This indoor/outdoor museum is a beautifully preserved Victorian china clay works, alongside a working opencast pit, and can be enjoyed whatever the weather. Allow about three hours for your visit (with time to stop for lunch and explore the woodland areas).
Your journey begins with the indoor interactive centre. Discover more about the industry's history and the lifestyle of its workers, with artefacts and interactive exhibits. There's also a virtual tour of a working clay pit, with film footage bringing everything to life.
As you venture outside, the 'monitors' (high-pressure hoses) and huge waterwheels, transport you to the world of china clay processing itself. The former linhay building gives an insight into extraction and processing methods, end products, and the daily lives of the pit workers. The transport yard has a collection of tools, machinery and vintage industry-related vehicles. Exploring further afield, you reach a crib hut (where the workers ate their lunch), and a series of settling tanks, filled with beautiful turquoise water.
 
There are three trails on offer to explore the wider site: a nature trail, historic trail and pit view trail. As you walk along the peaceful paths, the distant sound of the working pit is interspersed with birdsong. It's amazing to think this was once an industrial site, but is now a woodland teaming with wildlife. All around, mature rhododendrons cover any former scarring of the landscape. There's plenty of room for children to run and play, as well as a dedicated picnic space with play area and adventure trail. If you want to explore the woodland walks, do take suitable walking shoes as there are steps in places.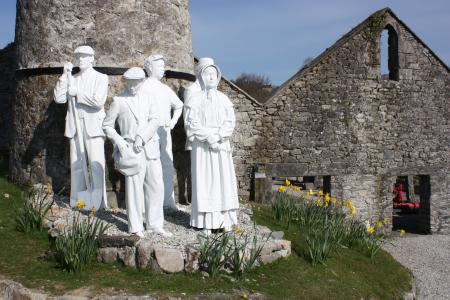 Best for nursery and Reception kids
In the indoor interactive centre, younger children will enjoy the audio-visual tales of life gone by, testing their strength against the tug-of-war man, and the dressing up and craft area. At the admissions desk, children can also choose to wear a hard hat, take part in a teddy bear hunt, and borrow an explorer backpack. There are also trails and quizzes to keep the children entertained.
The children's play area and adventure trail is a great place to let off steam. As well as a playhouse, seesaw and sand/clay pit with toys, you can walk through the secret rhododendron-lined paths to discover swings, balance beams and monkey bars. Picnic tables and bins make this an ideal spot for lunch, too. Be sure to look out for the wild flowers, birds and butterflies.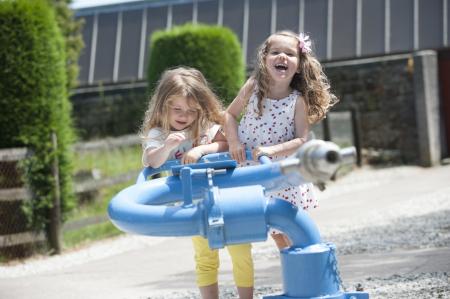 Best for KS1 kids
The historic and nature trails are a wonderful way to explore the woodland. The nature trail passes the Gomm Engine House, and the Viewing Point gives a rewarding vista of the St Austell River Valley. Children will also enjoy crossing the small bridges over the site's stream and walking through the flat rod tunnel. This long, dark, spooky walkway wasn't built for human traffic, but little people (and stooped adults) can now pass through.
Best for KS2 kids
A walk up to the top of the park is rewarded with a stunning view overlooking Wheal Martyn Pit. Watch modern machines in action in this opencast mine. If you're lucky, there may be a tour to see a dynamite 'blast' of the rock face! Older children will also enjoy the vintage vehicles in the transport yard and artefacts from days gone by.
The museum is conveniently located on a network of off-road cycle, walking and horse-riding trails known as the Clay Trails. The car park has cycle racks and local bike hire is also available (some can be delivered to the site for your use). The trails pass beautiful turquoise dams, St Austell's famous 'white mountains' formed from spoil heaps, and are teaming with wildlife, flora and fauna. Routes go from Wheal Martyn to the Eden Project, St Austell or Sky Spur. You can also download the Clay Trails app, which explores the area, and features stories of local people.
Don't miss!
Cornwall's largest working waterwheel in action! At 35ft, this feat of engineering was made in nearby Charlestown in the 1880s. The pitchback waterwheel was used to pump clay slurry from the pits to the settling tanks, using a system of flat rods. The nearby 18ft overshot waterwheel also powered a slurry pump that could lift 120 litres per stroke.
Half-term and holiday events for families
Wheal Martyn runs regular 'make and take' sessions during the school holidays, such as mask making, model waterwheels, pottery painting and scavenger hunts. Badger Forest School also run regular outdoor activities such as den building and campfire cooking (booking fees apply).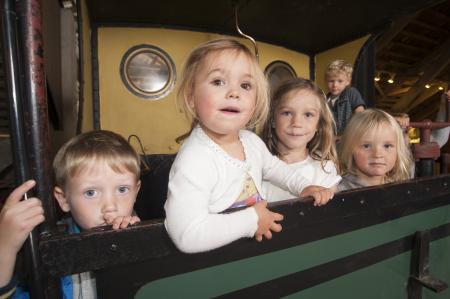 Food and drink options
The café is open daily from 10am, serving delicious homemade lunches, cakes, cream teas and ice creams. Dishes are homemade and locally-sourced, and include paninis, jacket potatoes, hearty soups and freshly-baked cakes. A child-friendly 'Little Miners' menu and play area also make for a stress-free visit. With a cosy woodburner in winter and outdoor seating in summer, it's the perfect place to refuel. There are even tables allocated for families with dogs, and biscuits for your four-legged friends.
The café and gift shop are also open to non-visitors throughout the year. If you'd prefer to picnic but have forgotten provisions, the café can provide a range of food that can be boxed up to eat on site. 
Getting there, prices and opening hours
Wheal Martyn is open daily, 10-5pm (10-4pm in winter). Closed over Christmas and New Year.
Adults £9.75, Children (5-16) £5.50, Under 5s go free.
Family (2 adults, 2 children) £28, Family (2 adults, up to 4 children) £34
Locals' Pass (limited period) Adults £6.50, Children £5.50.
Pay once and get in free for a year.
Wheal Martyn is found in the village of Carthew, between St Austell and Bugle on the B3274 (Sat Nav PL26 8XG), 2 miles north of St Austell, 6 miles from the Innis Downs junction on the A30.
Parking is free and dogs on leads are welcome. Access to some parts of the park is limited due to steps and uneven paths, but the interactive gallery, shop and café are all fully accessible.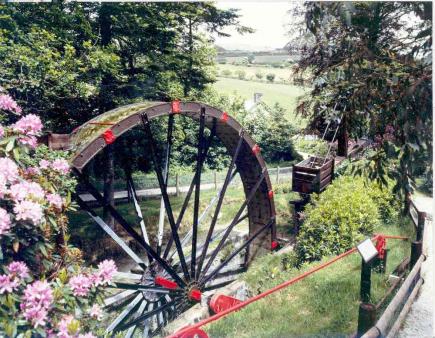 Pocket-money shop purchases
The admissions desk is located within the shop itself, but there's plenty of time to browse at the end of your visit. The well-stocked shop has a great supply of pocket money toys and gifts, as well as cards, books, scarves, bags, jewellery, crockery and Cornish produce.
Online treasures if you're too far to visit
This online footage of St Austell clay pits is dated, but gives a useful insight into the extraction process.
Links to the National Curriculum
Wheal Martyn's exhibits are complementary to primary science lessons and KS2 history. 
The Industrial Revolution 
Life in the Victorian era 
Rocks and soils
Photography: © Wheal Martyn
Museum reviews for parents: we need YOUR help!
TheSchoolRun is looking for families to visit museums and other educational venues around the country and 'review' them. Get in touch to have your say about the best family days out (with a learning twist!).