Museums reviewed by parents: National Maritime Museum Cornwall
The National Maritime Museum Cornwall's light and airy building, with its wheel-friendly design, is a haven for young families, but enjoyed by all generations. With 15 galleries over five floors, and a host of interactive exhibits, there's plenty to see and do – from wrecks and rescues and fishing and frigates to smuggling and seafaring skills.
Katie Dicker visited the National Maritime Museum Cornwall with her children Daniel, 7, and Elizabeth, 4.
The NMMC is based in Falmouth, the world's third-largest natural deepwater harbour and once a thriving port for international trade. The award-winning building is located on Falmouth's harbourside. It has convenient parking nearby, but is walkable from the town centre itself. At a pace, you could get round in under 2 hours, but you could easily spend 3-4 hours with a leisurely lunch.
Download fantastic science resources today!
Experiments And Science Fun pack
Science Learning Programme for each school year
All the instructions, questions and information you need
The museum is home to two main collections. The National Small Boat Collection is an impressive visual display in the main hall. Children will love gazing at the boats hanging from the ceiling, and catching a glimpse of alternative views from the lifts, ramps and balconies of the building. In addition, the Cornish Maritime Collection celebrates the vital role of the sea in Cornish history, and the influence of the ocean on many lives.
From top to bottom, the NMMC takes you through the ebb and flow of the sea. The 100-foot Lookout Tower provides great views across Falmouth's docks, harbour and estuary, while the Tidal Zone in the basement lets you glimpse inside the sea itself. Throughout the museum, interactive audio-visual links provide detailed information, and there are plenty of hands-on exhibits.
A volunteer-run boat-building workshop showcases the restoration and building of vessels, some of which have been on display in The Hold, the museum's large temporary exhibition space. Previous exhibits here include a striking replica Viking ship, a reproduction of Captain Bligh's launch vessel, as well as a Sea Rescue Helicopter.
Best for nursery and Reception kids
This is one museum where you're allowed to touch and jump aboard! In the Survival Zone, little ones will enjoy clambering into the life raft, climbing aboard the lifeboat and careering on a jet ski (just take shoes off first). Upstairs, the playzone is popular with tinies (who make a beeline for the slide, cave and ride-on toys) and is conveniently located next to the craft-making area (where workshops usually run from 12pm). The museum also offers galleried trails and storytelling sessions.
Best for KS1 kids
Slightly older children will enjoy stepping inside the living quarters of a replica lighthouse, as well as testing out the telescopes and binoculars in the Lookout Tower. Here, interactive screens can be used to identify local landmarks.
Delve into the Tidal Zone (an underwater gallery at high tide) to spot passing fish and floating seaweed, learn about the causes of tides, and view photos of local sea creatures. Beware the life-size diving suit opposite the lift door, however, if your visitors are jumpy!
Best for KS2 kids
In the Survival Zone, older children will be fascinated by the stories of survival, from the Robertson family adrift for 38 days in the Pacific Ocean, when their yacht was attacked and sunk by killer whales, to a film reconstruction of Tony Bullimore's four-day ordeal in a pitch-black air pocket of his capsized yacht. For celebrity status, don't miss the dinghy Sir Ben Ainslie sailed to victory in at the 2012 Olympic Games.
For more interactive displays, head to the Nav Station where you can learn more about weather systems, ocean currents and navigation. Test your hand at steering a boat, for example, or decipher some navigation charts. On the ground floor, you can also learn the art of rope making and tying knots.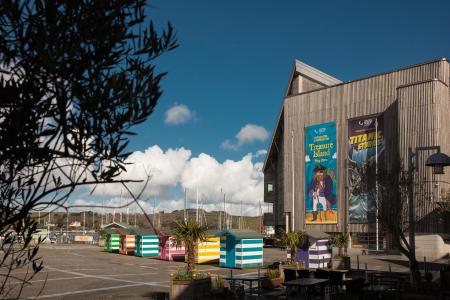 Don't miss!
All ages will enjoy sailing the wind-powered model boats in the Waterfront Boat Pool (£1 for a token). Nearby, you can also test the speed of a boat by changing its shape and keel to get the fastest time! 
Half-term and holiday events for families
The NMMC has a thriving programme of family events during the holidays, from storytelling, and arts and crafts, to visiting shows and themed exhibitions. Checkout the website for upcoming events.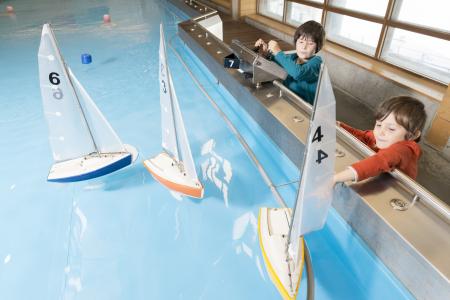 Food and drink options
The Waterside café has spectacular views of Falmouth Harbour (have an early lunch and grab a window seat if you can!) and a range of appetising treats, from freshly-made soup and sandwiches to pasties and cakes. Kids lunchboxes (£4.95) have a varied selection, and jugs of tap water are handy (by the cutlery).
Getting there, prices and opening hours
The NMMC is open every day 10am-5pm, except Christmas Day and Boxing Day. Pay once and your ticket is valid for a year. Adults £12.95, Children (5-17) £5, Under-5's go free.
From the outskirts of Falmouth, follow the brown signs (with an anchor) or use the postcode TR11 3QY for GPS. The nearby NMMC car park is pay and display (maximum 4 hours, £4.50 with a photographic system). Beware, parking fines are issued for entering incorrect car registration (or going a fraction over time!).
Alternatively, the museum is a five-minute walk from Falmouth Town station.
Pocket-money shop purchases
You can browse the spacious shop on exit (or bypass it back through the main entrance). With a range of locally sourced gifts, maritime themed goodies and children's clothing, there's something for everyone.
Online treasures if you're too far to visit
Links to the National Curriculum
There are lots of learning opportunities in the museum, from a chance to see physics in action to local seafaring history.
KS1: history; geography; weather; science; design and technology.
KS2: the world around us; history; geography; weather; science; marine habitats; energy, forces and movement; history of exploration/maps; trade; design and technology.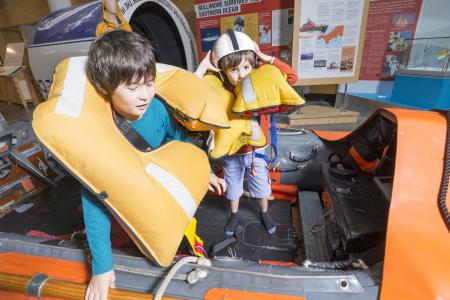 Photography: © National Maritime Museum Cornwall
(Building image: Kirstin Prisk courtesy of National Maritime Museum Cornwall)
Museum reviews for parents: we need YOUR help!
TheSchoolRun is looking for families to visit museums and other educational venues around the country and 'review' them. Get in touch to have your say about the best family days out (with a learning twist!).