Sex and relationships education: what your child learns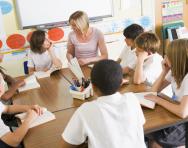 Sex education teaching varies hugely from school to school. We explain what goes on in primary school SRE lessons.
Sex education might be a difficult subject to handle, but it's an essential area of learning for your child.
'Primary school children need information about sex and relationships in a timely fashion, which means, for example, that they should learn about puberty before they experience it,' says Lucy Emmerson, coordinator of the Sex Education Forum.
However, the legal requirements for primary schools to provide sex and relationships education (SRE) are minimal. So what can you expect your child to learn and when?
Sex education and the National Curriculum
Under the National Curriculum, the basics of sex education fall within the science curriculum. 'The statutory content requires maintained schools to teach children about human development, including puberty, and reproduction,' says Lucy.
In Year 2, children learn that animals, including humans, have offspring that grow into adults. They should be introduced to the concepts of reproduction and growth, but not how reproduction occurs.
In Year 5, children are taught about the life cycles of humans and animals, including reproduction. They also learn about the changes that happen in humans from birth to old age. This includes learning what happens in puberty.
Academies and free schools aren't required by law to follow the National Curriculum, and so may not follow these programmes of study. However, they do have to teach a broad and balanced curriculum that includes science. 'This is entirely achievable even in faith schools, because the school values are often in tune with the focus in SRE on relationships and caring for each other,' adds Lucy.
Sex education guidance
In addition to the National Curriculum, the Department for Education (DfE) published Sex and Relationships Education Guidance in 2000, which, although it isn't statutory, schools must take into consideration. Primary schools should:
Have an SRE programme tailored to the age and maturity of children.
Ensure that boys and girls know about puberty before they experience it, and how babies are conceived and born.
Focus their relationships education on friendships, bullying and self-esteem.
The guidance suggests that most of this should take place in Year 6, before the transition to secondary school. However, many campaigners, including the Sex Education Forum, believe that starting in Year 6 is too late and that pupils benefit from a developmental programme of SRE throughout primary school.
Schools must have an up-to-date policy that sets out how they define SRE, how it's provided and who is responsible for it, how it's monitored and evaluated and how parents can withdraw their children from SRE lessons. This must be available to parents and reviewed regularly.
What does a sex education lesson look like?
The quality and quantity of SRE varies enormously in primary schools; indeed, Ofsted has recently pointed out failings across the board, such as leaving teaching about puberty too late, and not teaching the correct anatomical terms for genitalia.
'Ideally, schools should dedicate teaching time to SRE in every school year, so that they can revisit and build on what children have learned,' says Lucy. 'This could begin in the lower years with learning about the differences between boys and girls and how families care for each other, and develop so that by the time children leave primary school, they've covered a wide range of topics.'
Techniques that schools may use to deliver SRE include:
Games: for example, a parachute game to explore different types of families, where children run underneath if they live with two parents, one parent, have siblings, are an only child, and so on.
Using storybooks that open up discussions about sex and relationships.
Circle time and question box activities, where children can post anonymous questions for group discussion.
Drama, role-play and puppets.
Art: for example, children drawing pictures of what they think a child older than them might look like, clothed and unclothed.
Watching videos and discussing what children have learned.
Some SRE may be taught as a whole-class exercise, but children may also be split up into boys and girls or small groups at times: for example, children might be taught about puberty in single-sex groups.
'If the class is broken down into smaller groups, they should come back together afterwards to share what they've been learning,' Lucy adds. 
Governors are responsible for agreeing the school's SRE policy, and then it's up to staff to decide how to organise the teaching. It may be that the class teacher or a subject lead for SRE and PSHE teach on rotation.
It's important that teachers get training and support with the subject. 'The teacher responsible should be competent and trained in delivering SRE so that they can manage the teaching process, set ground rules, and treat it as a proper subject, monitoring, assessing and evaluating what children learn,' says Lucy. 'What children really want are open conversations with reliable adults.'
Involving parents in sex education
The government's SRE guidance says that schools should consult parents about what will be taught in SRE. This should include supporting parents in talking about sex and relationships at home, and linking it with what will be taught at school. For example, schools might invite parents in to look at the resources that will be used in class, or even provide materials to be used at home.
If you're not happy with your child taking part in SRE at school, you have the right to withdraw them from any or all of it, and the school should make alternative arrangements for your child for the duration of the teaching. The exception is the SRE content covered in the National Curriculum for science, which children at maintained schools have to be taught.
Teaching diversity
There has been a lot of debate in recent years about how schools should handle relationships education – for example, whether they should promote marriage as the ideal family unit, or teach children about same-sex relationships.
The government's current guidance says, 'pupils should learn the significance of marriage and stable relationships as key building blocks of community and society. Care needs to be taken to ensure that there is no stigmatisation of children based on their home circumstances.'
Although there's no specific requirement for schools to teach children about same-sex relationships, they are required to abide by equality legislation.
'It's important that schools show images of different types of family,' says Lucy. 'Children will have questions about what terms like "lesbian" and "gay" mean, and it's appropriate to explain them, but the main thing is that children learn that relationships should be loving, equal and safe across the board.'
The future of sex education in primary schools
In summer 2018, the government announced the biggest overhaul of sex education in 20 years.
Under the proposals, relationships education will become compulsory in primary schools for the first time, and sex and relationships education will be compulsory in secondary schools. This applies to all schools, including academies and free schools.
The focus in primary schools will be on healthy, respectful relationships, concentrating on family and friendships, on and offline.
The key areas of learning will be:
Families and people who care for me
Caring friendships
Respectful relationships
Online relationships
Being safe.
The proposed new curriculum will cover issues such as talking about emotions, online safety, body image, consent and harassment (in an age-appropriate way), stereotypes, respect and self-respect, tolerance and trust.
Primary schools will not have to provide sex education, but the DfE recommends that they do. It's advised that they cover:
The changes that adolescence brings
How a baby is conceived and born.
Schools will still be advised to inform parents in advance about what they will be teaching, and parents will still have the right to excuse their children from sex education, but not from relationships education.
To contribute your views on the proposed changes, you can take part in the online consultation. This closes on 7 Nov 2018, after which the DfE will finalise its new sex and relationships curriculum in 2019.
For information about SRE for your primary school child, visit http://www.sexeducationforum.org.uk/resources