Year 5 Bundle
Introduction:
Is your child about to start or part-way through Year 5? Make sure they've got all the resources at hand to help with learning with the Year 5 book bundle.
When your child reaches Year 5, it's time to think about and prepare for their big move up to secondary school. Our brilliant eBook - The Parents' Guide to Secondary School - tells you all you need to know about what to expect and how to best aid your child in the step up.
This bundle also includes our eBooks Grammar Made Easy, a brilliantly helpful guide that reinforces what is taught in the classroom, Spelling Made Magic, which contains activities and strategies that will help your child learn to spell in a way you've never imagined before, whatever their age or ability, and Teach your child Year 5 maths, a reference guide and home-teaching kit.
What you will receive in your bundle:
Teach your child Year 5 maths eBook
Spelling Made Magic eBook
Grammar Made Easy eBook
The Parents' Guide to Secondary School eBook
WAS: £41.96 NOW: £20.98 50%OFF
Summary of contents:
Teach your child Year 5 maths

Teach your Year 5 maths is a reference guide and home-teaching kit which will help you understand exactly what maths skills your child is expected to have mastered in Year 5.

Maths topics covered include calculating with positive and negative numbers, rounding numbers, column addition and subtraction, working with multiples and facors, prime numbers, long multiplication and short division, equivalent fractions, percentages, angles and line graphs. As well as parents' notes on the theory your eBook contains lots of practical activities and games to help your child practise what they're learning at home.
Spelling Made Magic
Spelling Made Magic is a brilliant resource bursting with a variety of games, activities and strategies that will get your child learning to spell in a way you've never imagined before, whatever their age or ability. Together, you'll use all of your senses - sight, hearing, touch and taste - and everyday objects, such as chocolate cake and glitter, to help your child remember the correct spelling of a word.
It was created exclusively for TheSchoolRun by author, teacher and (perhaps most importantly) mum, Clare Winstanley. Clare is an expert in spelling and literacy for children diagnosed with dyslexia. She has vast experience of working with children for whom spelling is a challenge... and with those who just need an extra boost.
Try her game-based spelling activities with your child and you'll see why parents, children and teachers all love her approach:
"The straightforward, clear approach of this book makes it a must for every parent and teacher ... It exudes the multi-sensory approach in a big way: sight, sound, touch and smell feature strongly on every page, with much emphasis on eating your words! A most impressive resource." – Graham Cooper, Headteacher, William de Yaxley Junior School, Cambridgeshire
Grammar Made Easy
Whether your personal blind spot is apostrophes, capital letters or possessive pronouns, TheSchoolRun's eBook Grammar Made Easy is packed with simple rules to remember and detailed explanations of what's right and what's wrong (and why). Grammar Made Easy will give you the confidence to help your child with their homework, identify their mistakes and explain how to correct them. And it covers the whole primary curriculum, so you'll be able to refer back to it when you need to.
The only downside? You'll never be able to look at a sign for 'banana's' again without wincing…
The Parents' Guide to Secondary School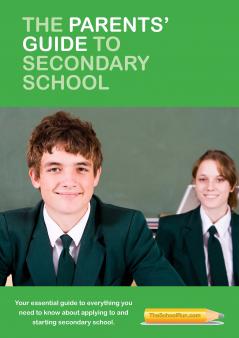 This indispensable guide will help you and your child successfully manage the important transition from the cosy world of primary school to the bigger world of secondary school. The Parents' Guide to Secondary School takes you through everything you need to know about secondary school, from deciding which schools to apply for, through the application and appeals process, to supporting your child in the first weeks and months in their new school.
The expert advice and practical tips from parents contained in these pages will ensure that you are able to help your child prepare for this exciting new chapter in their life, and that they begin secondary school feeling confident and supported both practically and emotionally.