Year 6 English: what your child learns
Find out what your child will be taught in Year 6 English and support their learning at home so they feel confident in their skills, ready for the move to secondary school.
Literacy will still focus on the three areas of:
Reading
Writing
Speaking and listening
This year, the children will be working on stories, poetry and non-fiction and concentrating on one or more of the following areas:
Significant authors
Short stories with flashbacks
Poetic imagery
Start the Year 6 Learning Programme!
Weekly maths & English worksheets
Follows the National Curriculum
Keeps your child's learning on track
Reading in Year 6 – your child will be:
Continuing to read an increasingly wide range of fiction, poetry, plays and non-fiction texts
Reading fiction texts both modern and old and from other cultures and traditions
Preparing poems and plays to read aloud and to perform showing understanding through intonation and volume
Inferring characters' feelings from their actions and justifying inferences with evidence
Discussing how authors use figurative language
Distinguishing between fact and opinion
Children should be allowed to choose a book at school to take home with them to read and will still be reading with their teacher in groups once a week (this is called guided reading).
Year 6 reading: try this at home
Choose a classic novel to read together (or listen to an audiobook) – even fluent readers can struggle with longer books so reading together can help bring it to life
If you have younger children, suggest your older one reads to them. It will help with their reading aloud and expression
Use technology – downloads and apps could inspire reluctant readers to try new authors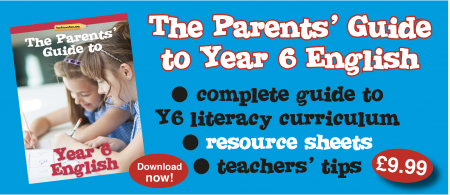 Writing in Year 6 – your child will be:
Spelling some words with silent letters
Learning the spelling of more difficult homophones (words which sound the same but are spelt differently)
Using a dictionary and a thesaurus
Understanding synonyms and antonyms
Writing with neat, legible handwriting and with increasing speed
Using the passive to affect the presentation of information in a sentence
Using semi-colons, colons, dashes and hyphens
Learning to select appropriate grammar and vocabulary
Describing settings, characters and atmosphere in narratives
Writing dialogue
Structuring texts with a range of organisational devices, including time connectives, paragraphs, headings, bullet points, underlining
Assessing and improve the effectiveness of their writing
Year 6 children are usually confident writers, able to express their ideas imaginatively and clearly, whether they are working on fiction, non-fiction or poetry.
Y6 writing: try this at home
If your school has a newspaper or magazine, encourage your child to take part – they could write about a hobby or school club.
Encourage your child to put together a yearbook for the end of primary school – include stories, pictures and interviews with pupils and teachers
Suggest your child keeps a diary and writes in it regularly
Help your child practise what they're learning in school with our year 6 English worksheets, or browse through our selection of KS2 SATs papers to help them prepare for the SATs exams at the end of year 6. You can also follow our KS2 SATs Learning Journey.
Check your Y6 child's progress in English with our free Y6 English Progress checks, three mini-tests for the autumn, spring and summer terms.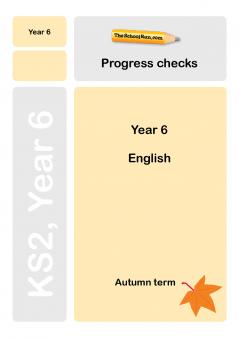 Explore the Year 6 English and Maths Learning Journey programmes