10 reasons poetry is great for kids
How do poems help with learning, and how can you inspire a love of poetry in primary-school children? Charlotte Hacking, judge of the Centre for Literacy in Primary Poetry Awards (CLiPPA), shares her tips.
Poetry has a way of engaging children right from the start. From much-loved nursery rhymes like Ring a Ring o' Roses to modern classics such as Michael Rosen's witty Chocolate Cake, they often appeal to even the most reluctant readers.

Poetry is also an important part of National Curriculum literacy from Key Stage 1 onwards, with pupils encouraged to enjoy reading poetry, recite some by heart, and write their own poems – and it can have some surprising benefits, in and beyond the classroom.
Here, Charlotte Hacking, learning programmes leader for the Centre for Literacy in Primary Education (CLPE) and a judge for the CLiPPA Poetry Award, shares some of the things your child can learn from reading and writing poetry.
1. It helps with spellings
Children with a good awareness of rhyme and rhyming skills tend to become better readers and spellers. A focus on rhyme helps them look at patterns within words and how they are formed, supporting word recognition and spelling.
2. Speech development improves
Playing with sounds and rhyming patterns in words supports the development of the vocal apparatus in the mouth, pharynx and nose, helping speech and language development.
Poetry also paves the way for the articulation of phonemes as children start to tackle phonics in Reception.
3. Reading becomes more fluent
The tunes and patterns of poems on the page support children in developing reading fluency, meaning poetry is a perfect vehicle for engaging more reluctant readers, as well as for encouraging more confident readers to pay closer attention to the words on the page: an important skill for reading comprehension.
4. It allows children to develop their own opinions
A poem is not a puzzle to be solved: there is no right or wrong answer when children are talking about poems or sharing opinions about what they are listening to or reading, which can give them confidence in expressing their views to others in the class.
The physical space between lines and stanzas also provides pauses for children to reflect and make their own interpretations.
5. It inspires creativity
Well-chosen poems can help inspire children to become writers themselves. They often gain a sense of voice, and think carefully about their subject matter, language, grammar and style through writing poetry of their own.
Writing poems encourages them to reflect on their experience, recreate it, and shape it using their own voice. They can also experiment with different writing devices like alliteration and onomatopoeia, making their writing more dynamic and exciting.
6. It helps develop interpretation skills
Poetry extends children's interpretive skills and ability to infer and deduce beyond the literal words on the page: an important part of the Key Stage 2 English curriculum. One of the strengths of poetry is its brevity: in a short piece of writing, children can look much more deeply at the author's intent, understanding why choices have been made and the effects these have – a high-level skill as a reader and a writer. 
7. It encourages a wide vocabulary and varied grammar
Poetry plays with language, and writers of poetry make deliberate choices in the way they use words and punctuation for the ultimate effect on the reader. Reading well-written poetry allows children to look at ways to compose ideas effectively, using the best language, the most thought-through layout and the most appropriate punctuation to convey meaning.
8. It helps children understand their emotions
Poetry supports the development of children's emotional literacy. They can learn to manage and reflect on their emotions, feelings and behaviour through drawing on experiences they hear about in poems shared.
When they write their own poetry, they can give form and significance to a particular event or feeling that was important to them, and communicate it to the reader or to the listener.
9. It introduces different writers, subjects and styles
There's a huge selection of different poems by different writers for primary school children to explore.
The CLiPPA Shadowing Scheme is one way that schools can do this, with access to a range of resources, including videos of poets performing their work and teaching notes that focus on listening to poetry, capturing children's responses, responding to language and themes, learning about poetic forms and devices and encouraging children to become writers of poetry themselves.
Your local library is a brilliant place to look for poetry to inspire your child: borrowing a children's anthology is a good way to introduce a variety of poems in one place, often linked by theme. You could also try the shortlisted entries (below) for the CLiPPA award, the only award in the country dedicated to children's published poetry.
10. It transports them to new worlds
At a time when the world is connecting, changing and developing at an alarming rate, and where local, national and global events can have such an impact on children's lives, poetry seems more necessary than ever to help them navigate and make sense of experiences, as well as providing some much needed entertainment and escapism, whether that's through witty rhymes that make them giggle or mythical poems that transport them to a different space and time.
The CLiPPA awards 2020
WINNER
Cherry Moon: Little Poems, Big Ideas, Mindful of Nature by Zaro Weil, illustrated by Junli Song (ZaZaKids Books/Troika Books).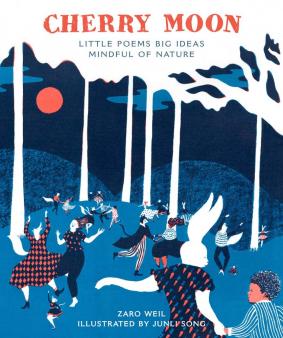 SHORTLIST
Midnight Feasts. Tasty Poems chosen by AF Harrold, illustrated by Katy Riddell (Bloomsbury).
Poems the Wind Blew In: Poems for Children by Karmelo C Iribarren, illustrated by Riya Chowdhury, translated from Spanish by Lawrence Schimel (The Emma Press).
The Proper Way to Meet a Hedgehog and Other How-To Poems compiled by Paul B Janeczko, illustrated by Richard Jones (Walker Books).
Wain: LGBT Reimaginings of Scottish Folklore by Rachel Plummer, illustrated by Helene Boppert (The Emma Press).

Download a FREE Creative Writing toolkit!
KS1 & KS2 workbooks
Bursting with fill-in prompt sheets and inspiring ideas
Story structure tips, style guides and editing suggestions