11 of the best ways to introduce children to Shakespeare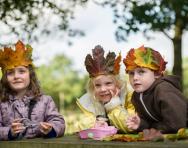 You don't have to be a theatre buff or a classic-literature lover to appreciate Shakespeare's wonderful stories, compelling characters and beautiful language. We say it's never too early to introduce children to the Bard, so here are 11 great ways to help under-12s fall in love with his verses.
The journalist and author Bernard Levin once famously wrote:
"If you cannot understand my argument, and declare "It's Greek to me", you are quoting Shakespeare; if... you have been tongue-tied, a tower of strength, hoodwinked or in a pickle, if you have knitted your brows, made a virtue of necessity, insisted on fair play, slept not one wink, stood on ceremony, danced attendance (on your lord and master), laughed yourself into stitches, had short shrift, cold comfort or too much of a good thing, if you have seen better days or lived in a fool's paradise... if you think it is high time and that that is the long and short of it, if you believe that the game is up and that truth will out even if it involves your own flesh and blood... if you think I am an eyesore, a laughing stock, the devil incarnate, a stony-hearted villain, bloody-minded or a blinking idiot, then – by Jove! O Lord! Tut, tut! for goodness' sake! what the dickens! but me no buts – it is all one to me, for you are quoting Shakespeare."
Shakespeare shaped our language and his characters and themes seem as relevant today as they did 500 years ago. Whether you're an expert or in the process of discovering Shakespeare yourself there are lots of brilliant ways to bring his work to life for younger audiences and readers.
1. Discover Shakespeare's stories
From Charles and Mary Lamb's classic Tales from Shakespeare, written in 1807 (you can download a free audiobook version to listen to) to the fantastic Shakespeare Stories retold by Andrew Matthews and illustrated by Tony Ross, there are a huge number of Shakespeare retellings for children to choose from. We also recommend Edith Nesbit's Beautiful stories from Shakespeare (the free audio download is perfect for car journeys) and the Usborne Illustrated Stories from Shakespeare, with gorgeous illustrations to pore over.
The 'Shakespeare in Shorts' animations for primary school also tell some of Shakespeare's most famous stories: Romeo and Juliet, The Tempest, Twelfth Night and A Midsummer's Night Dream.
In Shakespeare Retold, ten of Shakespeare's most famous plays are the inspiration for a collection of stories by children's writers. 
2. See animated versions of Shakespeare stories
Shakespeare: The Animated Tales was a BBC series of half-hour animations based on Shakespeare plays. Watch short clips on the BBC website or invest in the DVD; the actors include Hugh Grant and Tom Wilkinson.
With the Shakespeare & Saddlebags iPad app you can star in your own Shakespearean story, as well as playing some games and completing a digital sticker book.
Shakespeare in Shorts is a BBC series of short animated retellings of Shakespeare's plays:
3. Take part in family discovery events
If you're looking for live performances adapted for children, interactive workshops and family tours packed with behind-the-scenes secrets and costumes to try on you'll be spoilt for choice at the UK's leading Shakespearean theatres and venues.
4. Make the most of Shakespeare Week
Shakespeare Week is coordinated by the Shakespeare Birthplace Trust and is celebrated in schools, theatres, historic sites, museums, galleries, cinemas, and libraries all over the UK in March every year. Find out what's going on in your child's school and in your local area and get discounts and activity suggestions on the website.
5. Find out more about Shakespeare, his life and times
Immerse yourself in Tudor times and discover why William Shakespeare is considered to be one of the world's leading poets and playwrights. Loads of free Shakespeare games and activities are available online:
6. Brush up on your iambic pentameters
Don't feel confident enough to read (and explain!) Shakespeare's verse to children? No Fear Shakespeare offers 18 of Shakespeare's plays with a facing-page translation into modern English.
7. Immerse yourself in Shakespeare's language
Free audioclips of actors reciting Shakespeare are available from How to teach your children Shakespeare, as well as quotation sheets so they can follow the words as they're spoken. We also love RE:Shakespeare, an immersive learning Android app designed to bring Shakespeare to life for school students with contributions from David Tennant, hip-hop artist Akala, beatboxing champion Shlomo, spoken word artist Indigo Williams and RSC Director Iqbal Khan.
If you're feeling confident, why not have a go at creating your own Shakespearean-style characters, dialogue and stories with the story starters and activities in My Book of Stories: Write your own Shakespearean Tales?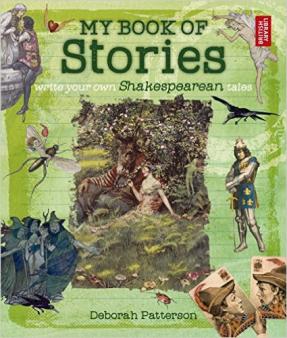 8. Arm yourself with a few choice Shakespearean insults
Teach your child a few Shakespearean insults and they'll never be lost for a witty riposte in the playground again. How about "Thou art like a toad; ugly and venomous." (As You Like It) or "Thou are pigeon-liver'd and lack gall." (Hamlet)? The Cambridge School Shakespeare's Create an Insult generator and the Shakespeare Insult-o-matic are sure to become firm family favourites, too.
9. Read Shakespeare: the comics
Dramatic events, comic characters and memorable locations make Shakespeare's plays into fantastic comic books.
Marcia Williams brings 14 of Shakespeare's plays to life for younger children with her beautiful artwork in Bravo, Mr William Shakespeare! and Mr William Shakespeare's Plays.
Classical Comics offers Shakespeare graphic novels for older kids in three versions: original text, plain text and quick text. If your child loves superhero stories and contemporary comics they'll be captivated by these illustration-led retellings.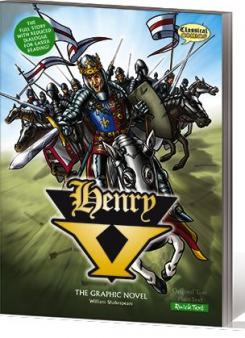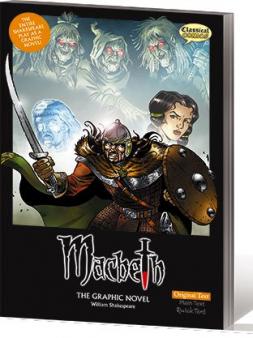 You can also watch a modern animation version of Much Ado About Nothing and even a Shakespeare rap for young children to demonstrate how relevant Shakespeare's stories and words still are.
10. Become a Shakespeare expert in minutes


"In ancient Greece, where there were no pens and paper, students were taught the art of memory using everyday objects as visual cues. Images are how the brain has evolved to learn and remember. Therefore, presenting these plays visually all at once is the best way of introducing young children to the world of Shakespeare," says Christopher Lloyd, author of the What on Earth? Wallbook of Shakespeare, a fold-out timeline wallbook of all of Shakespeare's plays. At 2.4 metres long the timeline is packed with characters, plots and emotions to explore; don't be surprised if your primary-schooler spends hours examining the intricate detail.
11. Take part in the Shakespeare Schools Festival
Shakespeare Schools Festival (SSF) is the UK's largest youth drama festival. Each autumn, four schools a night perform four different half-hour Shakespeare plays in their local professional theatre; the SSF offers teachers support and resources to help them stage and direct their own Shakespeare productions. SSF have worked with 100,000 young people across the UK since 2000 and welcome children from all areas, cultures and backgrounds. Contact them to find out more about what putting on a Shakespeare production could offer children at your child's school.

Photo: Children enjoy a nature walk at Mary Arden's Farm. Photo by Amy Murrell 2012, courtesy of the Shakespeare Birthplace Trust