Museums reviewed by parents: Edinburgh Zoo
Watch giant pandas having their lunch, catch penguins on parade and even dance alongside colour-changing disco chameleons (!) – there's a world of wildlife fun to discover at Edinburgh Zoo in Scotland for primary-school children and their parents.
Hetty Walton took her son Tom (11) and daughter Ivy (7) on an illuminating trip to Edinburgh Zoo in Scotland.
Located in a beautiful 82-acre setting on the Corstorphine Hill, three miles to the west of the city centre, Edinburgh Zoo is home to over 1,000 rare and endangered animals, including chimpanzees, sun bears, Indian rhinos and the only koalas and giant pandas in the UK .
Download fantastic science resources today!
Experiments And Science Fun pack
Science Learning Programme for each school year
All the instructions, questions and information you need
Best for nursery and Reception kids
The daily penguin parade is a must-see for little ones. Happening every day at 2.15pm, you can watch a military march of King, Gentoo and Rockhopper penguins waddle their way out of their enclosure following their keeper in a Pied Piper-like fashion, all at perfect toddler-height level. The new Wee Beasties section is also fab for smaller visitors, as it's warm, indoors and dotted with lots of tiny low-down viewing windows. They can find out more about tiny animals like bugs, fish, beetles and crabs – as well as learning how to become a snail superhero!
Be warned – the zoo is on a steep hill which means you get great views of the Edinburgh countryside, but it's a long, tough push for a buggy and can easily tire out little legs so pace yourself!
Best for KS1 kids
This has to be the star attraction: Edinburgh's two giant pandas. Loaned to the zoo in 2011 from China, Ivy was delighted to discover Tian Tian and Yang Guang close to the main entrance in their own covered enclosure. The huge glass walls and raised platforms of the viewing gallery meant it was easy for her to spot all the bamboo-chewing action while being protected from the weather (handy for Scotland in winter). It does get pretty busy in summer though, so make sure you book a 10-minute viewing slot along with your entry ticket.  
Best for KS2 kids
As well as reading all the information boards describing in detail the background to the animals and the zoo's work in helping protect endangered species (from Giant Armadillos to Scottish Wildcats), Tom was a big fan of the Tiger Tracks section – the giant see-through tunnel meant he got so close to the Sumatran tiger he could see the fur pressed against the glass.
He also enjoyed the Budongo Trail, the giant indoor and outdoor chimpanzee enclosure. Full of different sections for eating, sleeping and playing, every aspect of their daily behaviour is detailed by the giant plasma screens, viewing galleries and interactive displays.
Don't miss!
The tons of free educational events and activities. The day we went we caught keeper-led talks on sun bears, meerkats and birds and even had a hands-on animal encounter with some slightly scary snakes
Half-term and holiday events for families
The park runs regular holiday events for kids. When we visited the Giant Lanterns of China event was taking place, an installation of over 450 handcrafted silk lanterns that illuminated the grounds from top to bottom. As well as the ever-popular lantern pandas, Tom and Ivy loved the musical colour-changing chameleons and the Chinese acrobats display.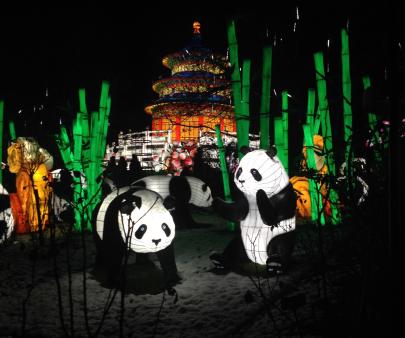 Food and drink options
There's plenty of choice, from the Grasslands Restaurant, which serves up pasta, pizzas and panini-type fare, to the more basic Jungle Food Court and Penguin Cafe. There are also plenty of ice cream and coffee kiosks dotted around. We went in winter so it would have been a bit bracing sitting outside, but there are plenty of scenically placed picnic tables near play areas and a big covered section of benches around the main lawn in the middle of the site too.
Getting there, prices and opening hours
A family ticket (2 adults & 2 children) booked online costs £53.50 (on the door £58.50). Under 3s go free. There is a car parking charge of £4 per car.
Edinburgh Zoo is located at 134 Corstorphine Road, Edinburgh EH12 6TS
Regular bus services operate to the Zoo from Edinburgh city centre. Lothian Buses 12, 26 and, 31 all stop outside and can be picked up near Haymarket and Waverley Railway Stations or in the city centre. The 100 Airlink Service also stops regularly outside the front entrance and operates between Edinburgh Airport and the City Centre.
Opening times
April - September: 9am - 6pm.
October & March: 9am - 5pm.
November - February: 10am-4pm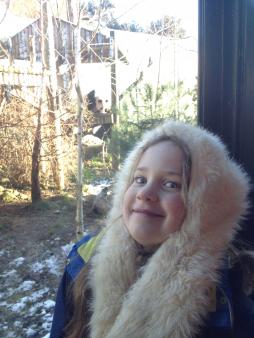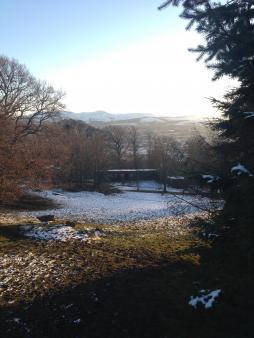 Pocket-money shop purchases
The big gift shop was packed with educational and craft sets and a very big range of cute (and tempting) cuddly toy animals! In the end Tom took a shine to a glass tumbler with a floating tiger in for £5, while Ivy gravitated towards a penguin headband (complete with pom-poms) for £3.50.
Online treasures if you're too far to visit
Links to the National Curriculum
Learning about life and living things and animals and their classification is part of science lessons in primary school.
Mammals (KS1)
Conservation and adaptation (KS2)
Science investigations: the natural world (KS2)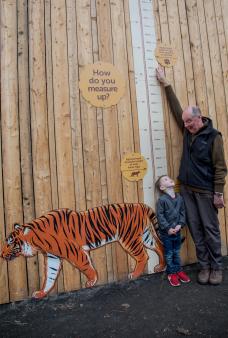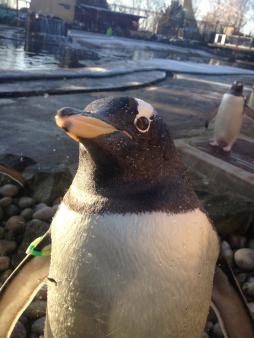 Photography: © Edinburgh Zoo and Hetty Walton
Museum reviews for parents: we need YOUR help!
TheSchoolRun is looking for families to visit museums and other educational venues around the country and 'review' them. Get in touch to have your say about the best family days out (with a learning twist!).