Museums reviewed by parents: The Postal Museum, London
How did people communicate in the days before Facebook and WhatsApp? London's new Postal Museum takes an in-depth look at the history of the postal service, with plenty to engage young hands and minds.
Lucy Dimbylow visited The Postal Museum with her children Katie, seven, and Tom, 12.
Newly opened in 2017, The Postal Museum focuses on the history of post with a vast range of artefacts and exhibits to explore, ranging from stamps and greetings cards to post boxes and vehicles.
Claim four puzzle packs!
Word Puzzle Packs
Numeracy Puzzle Packs
Challenging and exciting |  Boost key skills
There are different collections and shows like the Mail Rail Exhibition, which includes a 15-minute underground train ride through the tunnels that once carried the post beneath the streets of London.
There's also a brilliant postal-themed indoor play area, which can be visited at the same time as the museum or as a standalone activity.
Best for Nursery and Reception kids
Sorted! is a play area with a difference, aimed at under eights. This wooden world allows younger children to get hands-on with how post is sorted and delivered, and introduces concepts such as weighing, counting and money maths.
They can weigh and stamp letters and parcels in the post office area, empty the post boxes, sort the mail using pulleys and slides, and deliver it to the many addresses around the room using wooden push-along carts. Dressing up in postal worker costumes adds an extra role-play element.
There's also a quiet area with postal themed books such as The Jolly Postman, and a cart selling (real!) coffee and snacks. Sessions last 45 minutes.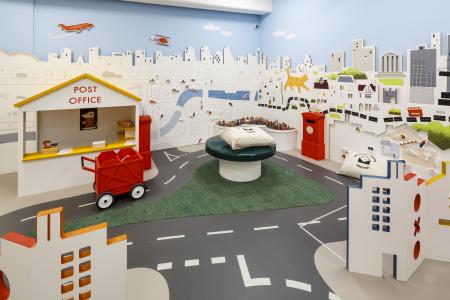 Best for KS1 kids
The entirety of the Postal Museum is designed to be hands-on, appealing to its younger visitors. Year 2 Katie particularly liked the touchscreen activities, including a Mail Bus game where she had to make decisions about the route to take to ensure all letters and passengers were delivered on time.
There are dressing-up zones throughout, and a Jolly Postman-themed activity trail which involves looking for items and completing challenges as you go around the museum, to earn a sticker at the end.
Best for KS2 kids
My older child was fascinated by the stories of how people communicated in the days before broadband. He loved making a call from the traditional red phone box, sending messages whizzing around the museum using the pneumatic tube system that once connected a 40-mile postal network beneath London, and deciphering telegrams using Morse code.
Stories of the post in war-torn Britain were eye-opening, as was Voices from the Deep: an exhibition of forgotten letters and artefacts retrieved from a shipwreck.
He also loved the hands-on activities in the Mail Rail exhibitions, which included operating lever signals to control the simulated movement of trains on the underground rail network, and the travelling sorting office, where we had to sort letters into the correct pigeonholes while the carriage floor rocked back and forth as if on rails.
Don't miss
The Mail Rail ride, just down the road from the main museum, takes you on an underground train ride through the tunnels that were used to transport post around London until 2003, with audiovisual projections showing how the network operated. Be warned: it's not for the claustrophobic, but kids who love trains will be in their element.
We also thought the digital stamp maker was worth queuing up for: take your photo, add accessories and use it as the basis for your own stamp design, which you can then email to yourself.
Half-term and holiday events for families
The museum hosts regular children's events during the school holidays, including an Easter treasure hunt, craft workshops and behind-the-scenes tours. Visit the What's On section of the website to see what's happening.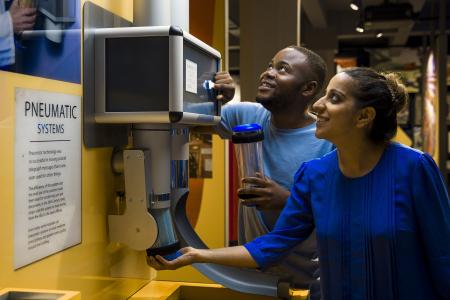 Food and drink options
The Counter café serves hot and cold drinks, snacks, cakes, soups and sandwiches and light meals, including children's meals. We paid just under £25 for two children's pasta meals, an adult meal and three cans of drink. There's also a small outdoor seating area where you can enjoy a picnic.
Getting there, prices and opening hours
The Postal Museum, 15-20 Phoenix Place, London, WC1X 0DA. Tel 0300 0300 700.
Open every day from 10am until 5pm, excluding 24-26 December.
General admission including one ride on Mail Rail costs £17.05 for an adult and £10.45 for a child (1-15) or £11.95 to include a session in Sorted! Admission to Sorted! alone is £5 for a 45-minute session.
The nearest tube and/or rail stations are Farringdon, Kings Cross, Chancery Lane and Russell Square (all within a mile). Buses stop nearby. Parking is available in public car parks.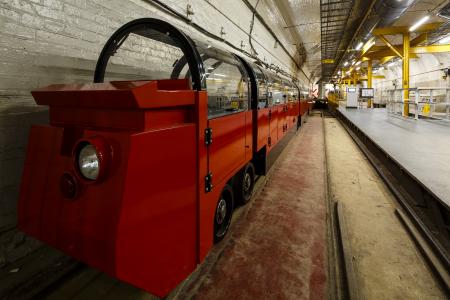 Pocket-money shop purchases
The shop stocks the usual range of rubbers, pencils, keyrings, bouncy balls and so on for around the £1-£3 mark. It also sells dressing-up outfits and postal-themed books such as Meerkat Mail and The Jolly Postman.
Online treasures if you're too far to visit
There's a small online learning area that's best suited to KS2 and above, including information on how the postal service was rolled out to the whole country, and the most unusual delivery methods that have been trialled – including rockets, balloons and cats!
Links to the National Curriculum
A visit to the Postal Museum ties in with National Curriculum subjects and areas of study including:
Changes within living history
British history
World War I and II
Transport
Communication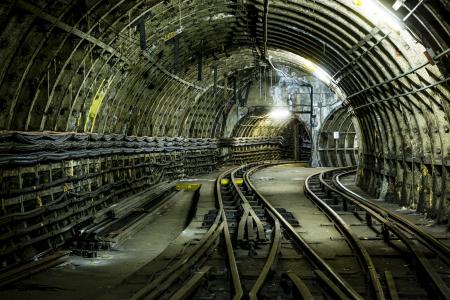 Photography: © The Postal Museum