What to expect from school if your child is gifted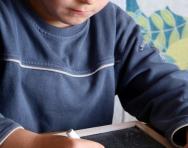 If you believe that your child is gifted or talented, it's important that their school recognises their abilities and provides the support you need. We explain what to expect and who to turn to for help.
Your child's teacher should be your first port of call when thinking about how to develop your gifted and talented child's talent. They will be able to give their professional opinion based on their observations of your child in the classroom and on the results of any tests they have set or on your child's SATs results. "If your child is considered to be gifted they should be put onto a list – formerly known at the G&T register," says Julie Taplin, Deputy Chief Executive of Potential Plus UK, the operating name of the National Association for Gifted Children. Once your child is on the list, provisions should be made to help them reach their full learning potential. The class teacher should also continue to assess your child's performance to ensure that they continue to achieve at a level to justify their inclusion on the school's G&T register.
Gifted and talented children at school
"The Government currently requires all schools to have a written policy on 'gifted and talented' – ideally with details of how they will identify these children in their school and what provision they will put in place," says Julie Taplin. You should be able to request a copy of this, or it may be available on the school website – it will enable you to see if your child's needs are being met in accordance with the current guidelines.
Your child's school should also have a person within the school or within a cluster of schools whose job is to ensure that the gifted and talented policy is in place and that its aims are being met. This person is usually called the Lead Teacher for G&T or the G&T Coordinator.
Your child's teacher will have to plan lessons carefully to ensure that your child is challenged; if your child does complain that they are bored at school you should discuss it with their teacher. "Government cut-backs mean that there is now no national programme for Gifted and Talented in England," says Julie Taplin. "Some Local Authorities and schools are trying to continue to provide activities at a local or regional level, but it's now up to individual schools to ensure there is provision in the classroom to assist G&T children." Unfortunately this means that the quality of education and support for gifted children in state schools varies wildly.
If you aren't satisfied with the support you're receiving from your school you should first speak with your child's class teacher.
If they cannot help, you should speak to the Lead Teacher for G&T, and if you still aren't happy you should approach the headteacher. The charities Potential Plus UK and the National Association for Gifted Children in Education (NACE) may also be able to give you some advice.