Understand how dashes are taught in the primary school grammar curriculum with our parents' guides to punctuation.
What is a dash?
A dash is a versatile punctuation mark that can be used within a sentence (instead of brackets or a colon) to show parenthesis.
A dash mustn't be confused with a hyphen, which is used to combine words together and is slightly shorter in length than a dash.
How are dashes used?
Dashes can be are used as an alternative to other punctuation marks to 
insert a break in a sentence to replace brackets, a colon or a semi-colon
to extend a sentence and expand upon a previously-made point or clause
to show subordinate or additional information within a sentence.
Here are dashes used to add information to the previous clause:

Here a dash is used in place of brackets:

Along with its use in place of brackets and colons, a dash can be used when writing dialogue, for example to show that someone speaking has been interrupted.

Dashes can also be used to show repetition of a word or phrase for effect, and to separate repetitive phrases. For example:

How are dashes taught in the primary school classroom?
As with all new or unfamiliar punctuation, it is important for children to see dashes 'in action' in the books they are reading. Adventure or horror narratives are full of dashes! 
Most teachers will introduce dashes first through the eyes of a reader, then a writer. They might ask children to explain why dashes are used, or what effect their use has on the reader. Children will then progress to incorporating them into their own writing.
When are dashes taught in primary school?
Dashes are taught in Upper Key Stage 2, most commonly Year 6, however some teachers may decide to teach their class dashes in Year 5 if they feel the class or a particular student is ready.
If taught in Year 5, children will most likely be expected to use dashes as an alternative to brackets. In Year 6, more emphasis will be placed upon using dashes in a more versatile way, to show repetition or interruption within speech.
Knowledge of dashes could also form part of the Key Stage 2 English Grammar, Punctuation and Spelling test that takes place when a child is in Year 6. Children may be asked a question like the example below: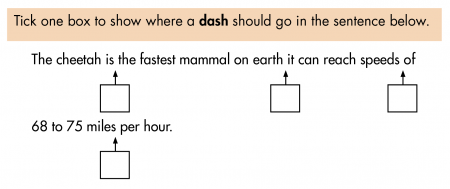 While there is no specific expectation for children to be able to use dashes within their writing to achieve age-related expectations, it is a requirement for greater depth writing.