3 of the best Royal London experiences for primary-school children
Our capital city is soaked in royal references and history, and it is hard to visit anywhere that isn't connected with royalty in some way, but a few very special places really bring the pageantry and tradition of the monarchy to life for KS1 and KS2 children. Enjoy a right royal day in London with tips from Francesca Fenn of Step Outside Guides.
Changing the Guard at Buckingham Palace
Buckingham Palace is the London home of Queen Elizabeth and her husband the Duke of Edinburgh, and it is a spectacular building, with over 700 rooms!
The most dramatic way to approach the Palace is to walk down The Mall from Trafalgar Square. This wide, straight, pink road is lined with Union flags, and at the end, in front of the palace, a huge golden monument to Queen Victoria gleams in the sun. The Changing of the Guard, an impressive ceremony involving lots of guards, horses and music takes place in front of the palace (check online for exact times before you visit). 
For a good view, arrive nice and early!  Afterwards, nearby St James' Park offers a lovely place to take a break, and to watch lots of different ducks enjoying themselves on the water.
Start a unique learning programme!
Weekly programme for each school year
Worksheets sent direct to your inbox
Keeps your child's learning on track
The Royal Mews
Just around the corner from Buckingham Palace are the Royal Mews, where the Queen's horses and carriages are kept. You can see beautiful carriages, (just like Cinderella's!) which are used on State Occasions, as well as some of the fantastic livery (costumes) that the riders wear.
There are the sleek and elegant cars that the Royal Family use, and best of all, if they are not out on duty, you will be able to see the royal horses, who pull the carriages! A visit to the Royal Mews costs £8.50 for adults and £5.30 for children. 
Westminster Abbey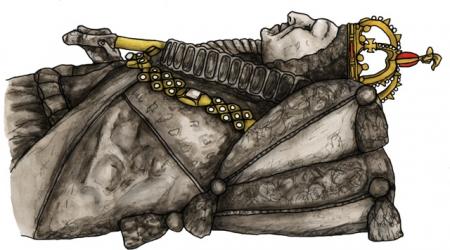 Westminster Abbey is nearly 1,000 years old, and it is the church where almost all our kings and queens have been crowned, married and buried. The Abbey is a World Heritage Site, and it is both spectacularly beautiful, and saturated in history. You can see the fabulous tombs of Queen Elizabeth I, Mary Queen of Scots, and many others. The old and battered Coronation Chair is displayed near the exit. Almost every monarch was seated on this old wooden chair as they were crowned. There are flags and stained glass windows, tombs and memorials, and it is an awe-inspiring place to visit. Use your time in the Abbey to:
See a death mask
Find Dick Whittington's cat
Walk through the cloisters
Entrance is normally £18 per adult, but if you take the latest Step Outside Guide with you (see details below), families with primary aged children will be able to get in absolutely free!
Bring KS1 and KS2 history to life with a day out in London: we recommend great Tudor, Great Fire of London and Victorian locations to visit with primary school children.
Step Outside Guides are £5 each and are written to enable families and groups to enjoy cost-free days discovering London. Book 5, 'If Statues Could Talk….' offers free entrance to Westminster Abbey for families with primary-aged children who visit the Abbey with their guide. Visit www.stepoutsideguides.com to order online and to learn more about the Guides.