10 of the best royal reads for kids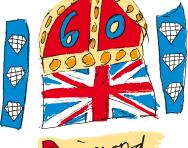 Make sure the whole family feels part of the Jubilee festivities and include some celebratory reading in your child's half-term break. We've picked some great options for you to read out loud and for independent readers. Time to hang the bunting and snuggle up with a book…

 

The Queen's Knickers by Nicholas Allan

£5.99, Random House
Suitable for: Reception
It's a busy year for the Queen – and one little girl can't help wondering what knickers Her Majesty will choose to wear on her engagements! Will they be her 'at home' pair – adorned with corgis – or perhaps her woolly Balmoral ones? What does your child think?

Princess Poppy: The Royal Parade by Janey Louise Jones

£5.99, Random House
Suitable for: Reception
Poppy is so excited when the annual dress-up parade takes on a royal theme, and can't wait to help out. But there are so many things to be distracted by in the run-up to the event, like her princess outfit… This new title in the hugely popular Princess Poppy series for young girls ticks all the Jubilee boxes, with a street party, royal fancy dress, and even the Honeypot Hill Olympic Games!

Katie in London – Jubilee Edition by James Mayhew

£5.99, Orchard Books
Suitable for: KS1
The perfect read if you're planning to visit the capital to take part in some of the Jubilee celebrations, Katie in London describes an unforgettable tour of the city and its major landmarks including the Tower of London, Buckingham Palace, Trafalgar Square and the London Eye.

George and Flora's Big Party by Jo Elworthy and Ley Honor Roberts

£5.99, Random House
Suitable for: KS1
When George and Flora realise that their neighbours don't know each other, they take matters into their own hands and organise a spectacular street party. Packed full of recipes and tips for organising your own street party, George and Flora's Big Party is all about cooking and community.

Horrid Henry meets the Queen by Francesca Simon

£4.99, Orion Children's Books
Suitable for: KS1
The perfect choice for newly confident readers, this is an Early Reader edition of a classic Horrid Henry story (with brilliant colour illustrations from Tony Ross). The Queen is coming to visit Horrid Henry's school. The real live Queen! Henry can't believe it! But when Miss Battle-Axe puts him in the back row, Henry is furious. Now how is he meant to find out how many TVs she has? Somehow Henry has to get himself noticed – and show the Queen just how horrid he can be…

Elizabeth the Jubilee Fairy by Daisy Meadows

£5.99, Orchard Books
Suitable for: KS1
The brand-new Rainbow Magic book, part of the best-selling series for girls aged 5 to 7 (since publication in 2003 the Rainbow Magic books have sold over 29 million copies worldwide). Elizabeth the Jubilee Fairy is in charge of making every jubilee perfect – but when Jack Frost steals Elizabeth's Diamond Sceptre both fairy and human celebrations are threatened. Can Kirsty and Rachel help Elizabeth find the sceptre so kings and queens everywhere can celebrate in style?

Billie Templar's War by Ellie Irving

£9.99, Bodley Head
Suitable for: KS2
'Dear Your Majesty, My name is Billie Templar. I am eleven years old. I live in Merchant Stanton near Leeds, which is all right, but it's not as nice as Buckingham Palace, I bet. Anyway, I know you're really busy, what with being Queen… but… Please can you send my dad home from the war?'
The funny, poignant story of a girl's fight to be reunited with her father – with Her Majesty's help!

The Queen by Richard Brassey

£4.99, Orion Children's Books
Suitable for: KS2
This eye-catching book from provides insight into the life of the woman who soon will be our longest-reigning monarch in the now-classic Richard Brassey style with fun facts, hilarious anecdotes and fascinating info!

 

Little Miss Princess and the Very Special Party by Roger Hargreaves

£2.99, Egmont Publishing
Suitable for: KS1
A true Royal at heart, Little Miss Princess, has a golden crown, travels by carriage, sits in a throne and even has her very own corgi! Little Miss Princess and the Very Special Party is packed full of Mr. Men and Little Miss characters with lots of silly mishaps along the way – see Mr. Tickle use his extraordinarily long arms to put up bunting and find out who ends up sitting next to who according to Little Miss Naughty's mischievous seating plan! 

History of Britain Kings &Queens (Diamond Jubilee Edition)

£16.99, Usborne
Suitable for: KS2
A luxury Diamond Jubilee special edition of a fascinating account of Britain's kings and queens, this children's reference book shows how Britain's history has been shaped by the lives, loves, triumphs and tragedies of its kings and queens from Alfred the Great to the Windsors. Packed with portraits and family trees, intriguing facts, photographs and illustrations and recommended places to visit.

Kings and Queens sticker book (Diamond Jubilee Edition)

£6.99, Usborne
Suitable for: KS2
This gloriously illustrated sticker book features over 100 stickers with portraits of British kings and queens from the 10th century to the present day. Children can match the stickers to their frames on the themed pages, which include the Tudors, Stuarts, Hanoverians, Queen Victoria, the Windsors and a special Diamond Jubilee display for Queen Elizabeth II.