Countdown to SATs: your action plan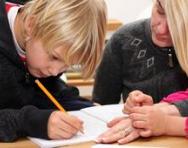 Statutory Assessment Tests (SATs) help teachers to learn more about how well your child is doing in core subjects, including maths, English, and, in some schools, science. Don't panic if your child (and you!) feel unprepared. Just follow our six-week action plan for SATs success.
Week one: Get prepared
• Talk to your child about SATs too, so they know what to expect.
• Ask them if they're unsure about anything they've been learning at school, so you're aware of subjects they may want some extra help with.
Top tip: Explain to your child that they don't need to worry about SATs – they won't be asked questions on anything that they haven't already learnt.
Week two: Start practising
Make sure your child feels confident about what to expect by looking at past papers together.
• Get your hands on some practice materials. SATs have a new format and different content from 2016, so the government has produced a
set of papers
to help familiarise children with what to expect. You can also 
download our free SATs past papers
, as well as subscriber-exclusive mock papers (developed for TheSchoolRun to offer children extra practice). These are based on the old-style SATs but are still useful for helping children get used to exam technique and practising key skills.
Top tip: Create a reward chart and work towards a small weekly reward, with a bigger treat to look forward to once SATs are over.
Week three: Encourage a study habit
Encourage your child to spend some time studying every day. Just ten minutes working on past papers (
English
,
maths
and
science
) every evening can make a big difference to their chances in their SATs. 
• Draw up a study plan together, including incentives for the end of each week.
• Provide your child with a quiet space in which to work.
Top tip: Get the work out of the way early, so they have the rest of the evening to relax. 
Week four: Work on weaknesses
By now you'll have identified the areas in which your child needs extra help.
• Spend time focusing on these with our revision tips and tricks.
• Try to set aside time to help them work on these tricky subjects.
Top tip: Make revision relevant. For an 11-year-old girl you might try a problem such as, 'If a girl buys a pair of sandals for £12.75 and trainers for £34.99, how much change does she have from a £50 note?'
Week five: Relax!
Regular breaks are essential. If your child feels under pressure, they may become stressed and tired.
• Make sure that your child makes time between school and study to relax for a short time with their games console or the TV.
• Time out allows their body and brain to recharge, which helps concentration.
Top tip: Exercise stimulates the part of the brain that's responsible for learning, so encourage your child to get moving!
Week six: Be positive
SATs are just around the corner. While your child should feel much more confident now, tests can be scary, so dispel those fears.
• Praise your child for all their hard work, and encourage them to make a list of five things they're proud of.
• Make sure they eat well and get plenty of sleep.
Top tip: Although SATs are important, they're not the be all and end all. Remind your child to just do their best – you'll be proud of them no matter what.