Black people have lived in Britain since at least the Roman era.
Until recently, many of the histories of Black people in Britain have been hidden or overlooked. Yet it is hard to tell Britain's history without including those stories.
Recently historians have begun to uncover new information about Black people's experiences and achievements. This means we can now find out more about how they were part of our history.
Top 10 facts
A group of African soldiers called the Aurelian Moors defended Hadrian's Wall during Roman times.
Tudor king Henry VIII employed a Black trumpeter called John Blanke.
Black people in Britain, including Olaudah Equiano, were some of the leading campaigners for the abolition of the slave trade.
Queen Sophie Charlotte, who was married to King George III, had African ancestry and reigned for 57 years from 1761-1818.
In 1833 the government paid 20 million pounds to 46,000 British slave owners to "compensate" the owners for their "loss of property", but not a penny was given to the former slaves.
Although slavery was abolished in the UK in 1833, the Industrial Revolution relied on cotton produced by enslaved people.
In 1914 many West Indian men bought tickets to sail to the UK to join the British forces. The British West Indies Regiment was created but some Black servicemen joined regiments alongside white men.
At the end of World War I, 20,000 Black people lived in the UK. By 1944 this had increased to 150,000 due to African American soldiers joining the forces to fight in World War II.
In 1948 the British Nationality Act was passed, giving people from the British Empire the formal right to live Britain. By 1958 125,000 West Indian people were living in the UK.
In 1976 the Race Relations Act, which banned discrimination in public places based on a person's colour, became law.
UK Black history timeline
400 AD

The Ivory Bangle Lady lived in York. Her skeleton was found in 1901 along with jet and elephant ivory bracelets, earrings and a glass mirror.

1511

Black trumpeter, John Blanke, played at a tournament to celebrate the birth of Henry VIII's newborn son.

1660

The Royal Africa Company is founded. It sent hundreds of thousands of enslaved people to the Americas.

1774

Ignatius Sancho, a British writer, composer and abolitionist, voted in the General Election in Britain.

1854

Mary Seacole, daughter of a Jamaican nurse and Scottish solider, travels to the Crimea to help wounded British soldiers.

1917

Walter Tull, a mixed race English professional footballer and British Army officer, led white British soldiers into battle. Before he fought in the First World War, Walter Tull played for Tottenham Hotspur.

1983

Sam King became the first elected Black Mayor in the London Borough of Southwark. He had served in the RAF during World War Two and travelled back to Britain on the Windrush in 1948.

1987

Diane Abbott is the first Black woman to be elected as a British MP in 1987. She has been re-elected at every election since and is still a serving MP in Westminster.

1993

Schoolboy Stephen Lawrence is murdered in a racist attack. His parents' fight for justice showed that racism hadn't disappeared from Britain.
Did you know?
The earliest known English image of Black person can be found in a 1241 version of the Doomsday Book.
 
Liverpool and Cardiff have some of Britain's oldest Black communities.
 
In 1913 John Archer became the first Black mayor in London.
 
Jack London was the first Black athlete to win a medal for Britain in the Olympic Games held in Amsterdam in 1928.
 
Lillian Bader was the first Black woman to join the British Air Force in 1941, rising to the rank of Colonel.
 
Henry 'Box' Brown sent himself by mail from Virginia in the USA, where slavery was still legal, to Philadelphia where it was illegal. He was in the box for 27 hours. Brown came to the UK in 1850 and wrote a book about his experience.
UK Black history gallery:
A reconstruction of the face of the Ivory Bangle Lady © Yorkshire Museum / Aaron Watson, The University of Reading
Tudor trumpeter John Blanke, College of Arms MS Westminster Tournament Roll, 1511. Reproduced by permission of the Kings, Heralds and Pursuivants of Arms.
Olaudah Equino
One of the earliest known images of a black man from a copy of the Domesday Book, probably created around 1241
Children waiting to greet Queen Mary, wife of King George V, in Brixton in south London at the opening of Lambeth Town Hall in 1938 (© Photo by Reg Speller/Fox Photos/Hulton Archive/Getty Images)
Mary Seacole
Diane Abbott MP
Gallery
About
Until recently the history of Black people in Britain was missing. From the earliest of times to modern day, British history taught in schools only told the stories of white people and it was generally thought that Black history wasn't relevant to Britain.
Things are starting to change. Society is now more aware of the experiences of Black people who lived in Britain and the links between Britain, Africa and the Caribbean.
Some might think the first black people in Britain arrived from Africa and the Caribbean due to the slave trade. However, we know that there have been Black people in Britain since Roman times.
The Ivory Bangle Lady is the name given to remains discovered in York in 1901 which are now on display in the York Museum. Archaeological analysis reveals that although she was born in Roman Britain, she's likely to be of North African descent. The remains have been dated to the second half of the 4th Century AD. The Ivory Bangle Lady was found with jet and elephant ivory bracelets, earrings, pendants, beads, a blue glass jug and a glass mirror. All these things would have only been owned by a wealthy person.
During the Tudor period there were hundreds of Black people living in England. John Blanke, an African trumpeter, was just one of them. He is shown as one of the musicians at the Westminster Tournament attended by King Henry VIII to celebrate the birth of his son (see him below in the College of Arms MS Westminster Tournament Roll, 1511, reproduced by permission of the Kings, Heralds and Pursuivants of Arms). A letter has been found in which John Blanke asked Henry VIII for a pay rise, which Henry agreed to!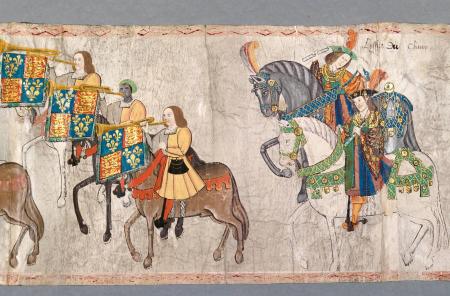 However, it was also during the Tudor period that British people began trading in enslaved people from Africa. Between the 16th and 19th century, hundreds of thousands of people were taken to the Caribbean and America and forced to work. Many enslaved people died from overwork, violence and disease. At the time, some people said that Black people didn't mind being enslaved, but the number of rebellions shows this was definitely not the case.
In 1761 a princess from Germany married King George III. She was known as Queen Charlotte and many historians believe she had African ancestry. Queen Charlotte lived in the times when Britain was becoming very wealthy from its involvement in the transatlantic slave trade.
Cities such as London, Bristol, Liverpool, Cardiff and Glasgow were very involved in the trade. People across Britain used the sugar that enslaved people grew and used profits made from slavery to build impressive buildings. Some enslaved people were able to buy their freedom from their owners. British abolitionist, writer and composer Ignatius Sancho was able to do this and was able to vote in elections as he owned his own home and shop in London.
Traditionally, history of the abolition of slavery movement mostly focused on men such as William Wilberforce. Yet many Black people joined groups to protest against slavery and wrote about their experiences. The Black author and explorer Olaudah Equiano was very influential in slavery becoming against the law in Britain in 1833.
During the First World War, many men from the Caribbean came to Britain to fight. After the war there was a shortage of jobs and many white people thought that they deserved the jobs more than Black people did. Britain did not have laws that created segregation like those that existed in the United States of America. However, many Black servicemen and workers found themselves without jobs after a "colour bar" was introduced in many industries because white workers refused to work alongside Black people. There were violent clashes in cities such as Cardiff and Liverpool, known as the 1919 Race Riots. Many people were injured and three people died.
The "colour bar" continued in Britain, in work and housing, but during the Second World War many Black men fought in the British army. This time when the war ended Britain had a shortage of people to fill the many jobs that were created to rebuild the country. Many of those jobs were filled by people who travelled to Britain from across the Empire and worked as builders, NHS nurses and bus drivers. Known as the 'Windrush' generation, they arrived in the UK between 1948 and 1973, from Caribbean countries, on ships like the 'HMT Empire Windrush'. However in Bristol the Omnibus Company, run by the council, refused to employ black and Asian drivers, which eventually led to a boycott of buses across the whole city in 1963. At the time it was not illegal to discriminate based on race but the first Race Relations Act was passed in 1965.
The election of four Black MPs, including Diane Abbott, in 1987 was a significant moment in Black British history (Lord Constantine, a cricketer, barrister, politician and campaigner against racial injustice, became the first black member of the House of Lords in 1969). However, the racist murder of Stephen Lawrence five years later showed that progress still needed to be made in Britain.    
Related Videos
Just for fun...
With the CBBC Horrible Histories Wonderful Windrush Boxset game you can time travel through history and discover what it was like to live in a different time.
See for yourself
The Black Plaque Project commemorates notable men and women who have shaped Black British history with plaques throughout London. Why not plan a walk to see them?
Exhibitions at the Migration Museum in London explore Black History
See the skeleton of the the Ivory Bangle Lady and the items she was buried with on display in the Yorkshire Museum's exhibition Roman York: Meet the People of the Empire
Black History Walks offer 12 different walking tours and educational talks in London. There are bus tours and river cruises too!
Check out the British Film Institute which has a wide range of films as part of their Black Lives archive
Visit the International Slavery Museum in Liverpool
Kenwood House in London was the home of Dido Belle
Best books about Black British history for children
Find out more
Download the illustrated book Influential Black Britons from the UK Parliament Learning website
Explore the stories of Black Londoners with London's Black History resources from the Museum of London
Read more about John Blanke, the royal trumpeter in the courts of Henry VII and Henry VIII, on the Historic Royal Palaces website
Check out a range of resources classroom resources looking at Black history, culture, heritage and achievements from BBC Teach
Read about Olaudah Equiano and his involvement in the British movement for the abolition of the slave trade on Kiddle
Download The Royal Mint's Diversity Built Britain - Celebrating Black British History information pack for KS2
Read about notable Black people in the UK and around the world on Tuntimo, a Black history platform for children aged 5-11 years old
The Black Cultural Archives subject guides offer an introduction to key themes in their collections, such as Black Georgians and War to Windrush
Find out about the Black people who helped shape Scotland's history in a BBC Learning About Black Scottish History video
Find KS2 activities linked to key moments of Black history in Britain on The Black Curriculum's website
Mary Seacole is featured in CBBC's Our Black History Heroes, a children's series celebrating inspirational and history-making figures from the past 200 years
Read the Story of Windrush on the English Heritage website
Black British history on record is the National Archives' collection of documents relating to Black British history
Read about the British West Indies Regiment (BWIR), which served in Europe, the Middle East and Africa, on the Imperial War Museums website
TheSchoolRun's guide to Mary Seacole, voted number one in a poll of Great Black Britons in 2004
Download National Maritime Museum cards sharing the achievements and contributions to British history of Black people in the Georgian period
Download the free Empire Windrush Education Resource for KS2, published by Windrush Foundation
Learn about the history of Black people in Britain with educational resources from English Heritage, including the stories of St Hadrian of Canterbury, an African abbott, and Dido Belle, an aristocrat
 
Watch BBC Teach animated films exploring the lives of London's West Indian community during the 1960s, 70s and 80s (most suitable for children in KS3 and older)
Also see