Museums reviewed by parents: British Museum
World-renowned, big columns, ancient artefacts, absolutely enormous – what else comes to mind when thinking about a visit to the British Museum? Our family testers found the wealth of resources on hand for children, and share their top tips for a grand day out.
Elizabeth Leight visited the British Museum with Robert, 6 (Year 2) and Bryony, 3, on a Saturday afternoon.
It's a challenge to condense the British Museum into a few words, which is no surprise with its collections spanning millions of artefacts that reflect the history of cultures all over the world. It also happens to be a brilliant place to take your children, and the museum offers a lot for little ones to engage with the amazing objects on display.
Claim Your Summer Challenges Pack!
30 exciting challenges
Weird and wonderful facts
Keep them busy the whole summer!
There is a long security line to go through before even entering the museum, but as we had our small children with us we were able to go in a separate, and slightly faster, line.
If you're visiting on a weekend or during school holidays, take advantage of the Ford Centre for Young Visitors. Located just underneath the Great Court, it has lockers, space to eat packed lunches, and child-sized toilets and sinks.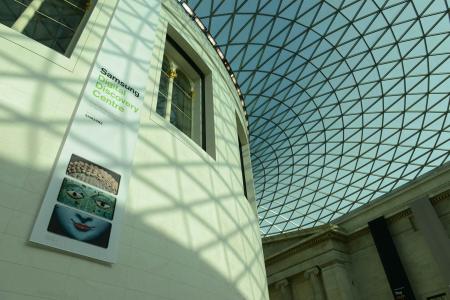 Best for nursery and Reception kids
The museum holds special events every month for under-5s, both during the week and on weekends, that focus on different aspects of the collection. For example, one event about Troy has children helping King Priam decorate his palace, then exploring the Greek camp outside the Trojan city walls. Check out the Family Visits page on the British Museum website for details on what's coming up.
On weekends and during school holidays, visit the Families desk between 10.30am and 3pm in the Great Court to sign out a special activity backpack (there are eight different themes available). It's free, and you can keep it for 90 minutes for use anywhere in the museum. During the week, you can get the backpack from the Ford Centre for Young Visitors. Note that you can only sign out one backpack at a time, so my three-year-old tagged along with my six-year-old as he worked through a different backpack. She got a little bored so went off with my husband to walk around other parts of the galleries we were looking at.
In addition to the backpacks, children can complete trails in eight themed booklets that are also available for free from the Families desk on weekends and during school holidays. As with the backpacks, these include puzzles and fun facts about the exhibits, but all you need is a pen or pencil to complete it. Two of these are even suitable for children aged 3-5, so there really is something on offer for every family.
Best for KS1 kids
The eight activity backpacks are designed to match the collections in the museum, with puzzles inside the backpacks that match specific items in the galleries. A book accompanies each backpack to guide your child through the activities and provide information about the items they're looking at in the galleries, and while you'll need to return the backpack, you can keep the book. Some of these are suitable for children as young as 5. There's also a backpack available for children with sensory needs.
My six year old tried a backpack about ancient Egypt, and a trail about ancient Greece, and had a brilliant time with both. He especially enjoyed an activity in the backpack that required attaching internal organs in the right places on a felt body, and another one that explained hieroglyphs and how to spell different names. On the Greek trail, he and I were competing to be the first one to find certain shapes of Greek jugs and cups that the book mentioned. I really can't recommend these enough, and we'll definitely be returning to do more.
When you complete a backpack or trail, head back to the Families desk for a sticker! The staff at the desk are very helpful, and spoke to my son about what he liked and learned about.
Best for KS2 kids
Some of the activity backpacks are suitable for children up to age 11 or 12, so there's a lot for children at any stage in primary school to get out of them. The activity trails are perhaps geared toward the younger end of KS2, but an older and younger sibling could enjoy completing them together.
I tried to explain to my six year old just how old and important some of the items are that he was looking at, but it's something I think he'll need to be older to appreciate. When he does, I'm going to check out the museum's recommendations for 12 British Museum collection objects to see with children, and from there look at the suggested one-hour self-guided visit and three-hour trail and the family visit audio guide for exploring the enormous collection of artefacts.  
A British Museum sleepover (for 8 to 15-year-olds) is also an unforgettable experience – activities include craft workshops, storytelling and games before spending the night sleeping in the Egyptian and Assyrian galleries, surrounded by kings and gods from the ancient world. In the morning there's time to explore a gallery before the Museum opens.
Don't miss!
The Egyptian mummies – both the ones in the exquisitely-painted sarcophagi and the ones exposed for us to see how well preserved they are. My son was captivated by the mummification process, and the mummies of cats. 
Half-term and holiday events for families
Food and drink options
There are children's menus available at two sit-down restaurants: the Pizzeria (£6 for just pizza and a drink, £8 for two courses) and the Great Court restaurant (£9 for two courses), both for under-10s. You can bring your own packed lunch to eat in the Ford Centre (described earlier) or outdoors on the museum grounds.
If you're taking a quick break in the open seating areas of the Court Café, hot drinks are around £4, soup and sandwiches £5-8 and cakes £3-5.
Getting there, prices and opening hours
The British Museum is on Great Russell Street, London WC1B 3DG.
We took the Piccadilly Line to Holborn and walked from there, which took about 10 minutes with my 3-year-old setting the pace. The museum recommends the following Tube stations:
Tottenham Court Road: 5-minute walk
Holborn: 7-minute walk
Russell Square: 7-minute walk
Goodge Street: 8-minute walk
There are also bus stops within walking distance, but note that the museum doesn't have any parking facilities.
Entry is free, but there may be a charge for some exhibits.
Opening hours:
Daily: 10am-5.30pm
Fridays: 10am-8.30pm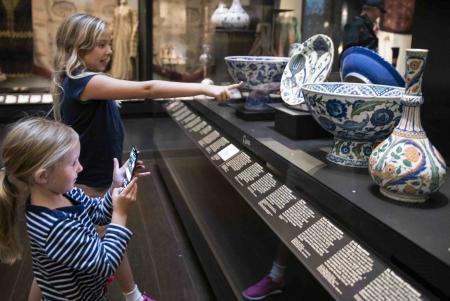 Pocket-money shop purchases
A museum as large as this of course has more than one gift shop, but there is one specially for children's books which has a few other knick-knacks in it. The one adjacent is more general and has pretend helmets and shields (priced from £5 up to £20). Some feather pens caught my eye and were a cheap and cheerful 99p each. There was also a 'museum snap' game featuring images of mummies, fossils and dinosaurs at £6.
Online treasures if you're too far to visit
Links to the National Curriculum
Photography: © British Museum
Museum reviews for parents: we need YOUR help!
TheSchoolRun is looking for families to visit museums and other educational venues around the country and 'review' them. Get in touch to have your say about the best family days out (with a learning twist!).